When metal is heated until it's bright red, it becomes malleable like clay.
That's when James Roth takes hammer to anvil and makes magic happen. Roth, a modern blacksmith and owner of Hell Creek Forge, creates all kinds of metalwork in his fiery home studio, located on his property in Livingston County's town of Hell.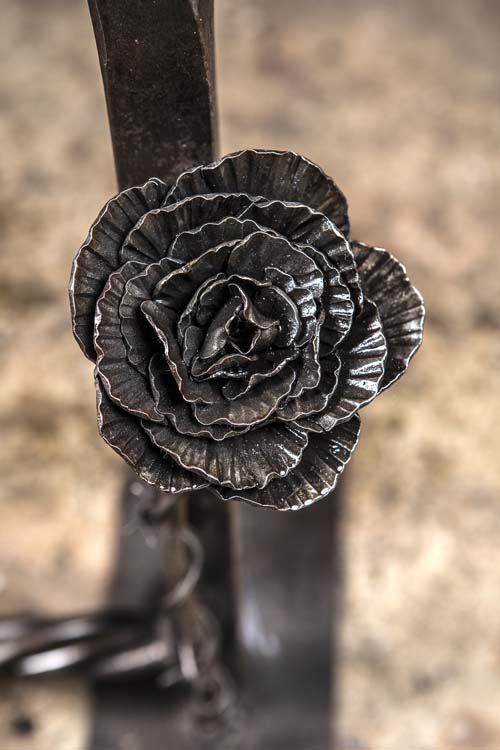 From public sculpture to one-of-a-kind home décor, all of his projects are commission-based and completely unique.
"I'll try anything that's interesting and cool," he says. "I do it the old-fashioned way."
When it comes to residential ornamental work, Roth has completed countless custom projects in homes of all sizes. Stairway handrails are the most popular, he says, followed by fireplace enclosures, pot racks, gates, door knockers, and furniture.
Really, any fixtures or furnishings made from metal can be crafted by Roth. He's currently making a table out of a bicycle, and working on a new line of unusual outdoor fire pits.
"It's kind of fun to shift gears and get away from the norm," he says.
Roth dates his interest in blacksmithing to watching a farrier shoe horses on his grandfather's farm outside of Muncie, Ind.
"He looked gigantic. He was bigger than life, and as a young pyro, watching him work with fire I was like, 'Oh, my god, this is great,' " Roth recalls. "I never thought I would do that for a living."
After studying law enforcement in Texas and getting his first job, Roth realized he wanted to work with his hands. He scored an apprenticeship with Scott Lankton of Lankton Metal Design, a longtime blacksmith in Ann Arbor, to learn the trade. After working with Lankton on jobs across the country and eventually becoming his business partner, Roth branched out on his own six years ago, encouraged by his wife, Kelly.
"I didn't think it would work, but from the first week I started, it's been really busy," he says.
Roth gained clients by auctioning off blacksmith lessons for charity and hosting wine tastings in his shop. He also got work through local municipalities.
"There aren't a lot of blacksmiths," says the father of two 20-something sons who are following in Roth's footsteps, in a way, as pipeline welders.
Roth's work can be seen in downtown Brighton, where a 20-foot red cedar tree with fanciful metal branches can be found in Hyne Alley and a creation of rusted I-beams serves as an entryway to the city's sculpture garden.
In downtown Howell, his whimsical bike racks line Grand River Avenue. He's also behind the 5,000-pound overhang at Fourth and Liberty streets in Ann Arbor. Much of his work is in private homes, but homeowners don't have to be wealthy to forge a project with Roth. He says one of his favorite pieces is a solid iron handrail in an "extraordinary" residence in Howell.
"One of the ways I've stayed busy is I have zero overhead, really, so I can make something really nice for regular homeowners," he says. "I'm slowly filling Livingston County with projects."
Many of those projects have iterations in his own yard, which has become a warehouse for mistakes that have been turned into abstract art.
"I love huge challenges. The big kick is taking something as hard as steel and trying to make it look absolutely beautiful," he says. "I love blacksmithing. I don't know if I like coming home and working in my shop or sailing better. They're both at the top of my list."
---
More information: hellcreekforge.com