HOMEFRONT
BULLETIN BOARD // DÉCOR SHOWCASE
---
PERFECT PETALS
Colorblends' French Blend Rose mix explodes with pink, red, and apricot tulips at this historic Grosse Pointe home. Learn more inside this section.
PHOTO BY HAYDEN STINEBAUGH
---
Posey Patterns
Get lost in a secret garden, in your very own home!
WITH JUST ONE glimpse of Vervain's "Secret Garden" colors "Passion Fruit" and "Summer," you're sure to succumb to a veritable flower fest! As spring is upon us, we thought it would be a good time to catch up with Nina Butkin, vice president of design at Fabricut Inc., to learn about this dreamy pattern's origins and how she recommends using it. Butkin, who has a degree in textile design from the Rhode Island School of Design, has been with the company for nearly 25 years. She concentrates her efforts on Fabricut's Stroheim and Vervain brands, while also managing the design staff for all of Fabricut's brands.
Q: Where does Secret Garden come from?
A: We work with a mill in Germany that's very high-style; in fact, their mill is top-level in the market.
Q: The pattern seems like a throwback to '70s-mod, but it's very current, too. What inspired it?
A: Fashion couture. The random patterning and the big, bold flowers make it reminiscent of that flower-power time, but the stylistic expressive painting is what makes it relevant now.
Q: Often, designers recommend using these types of bright patterns for accent pillows or maybe drapery, and not on main furniture pieces. But it looks fantastic on a settee or chair!
A: This is a popular pattern and if you use it on a sofa or chair, that's the complete opposite of what's traditionally done — a flip of, say, the Restoration Hardware look. We're loving that the focal point in a room can be dynamic furniture, while other things in the room are quieter. — By Megan Swoyer
Fabricut's Vervain Secret Garden is available at Designer Furniture Services and Fabrics, Michigan Design Center, Troy, 248-332-7260, michigandesign.com, fabricut.com.
---
Balancing Act
These 2019 Detroit Home Design Awards winners reveal their tried-and-true combinations | By Megan Swoyer

IT'S WHAT'S ON THE OUTSIDE …
PRODUCT STYLING BY TANYA ZAGER CHISHOLM
A. Benjamin Moore's White Dove, benjaminmoore.com
B. Benjamin Moore's Hale Navy, benjaminmoore.com
C. Sherwin-Williams' Gray Area, sherwin-williams.com
D. Sherwin-Williams' Overt Green, sherwin-williams.com
E. Sherwin-Williams' Sealskin, sherwin-williams.com
F. PPG's Evening Aqua Sky, ppgpaints.com
G. PPG's Fresh Tangerines, ppgpaints.com
H. Linear mini wall lantern by E. F. Chapman for Visual Comfort, $739,
Circa Lighting, circalighting.com
I. Surface-mount house numbers in copper, $27.99/ea., Joss & Main, jossandmain.com
J. Manchester (brand) Manchester (model) antique copper column-mount locking drop-chute mailbox with fleur-de-lis faceplate, $628.65, The Home Depot, homedepot.com
K. Copper round ribbed planter, $39.95- $259.95, Williams-Sonoma, Ann Arbor, Novi, Troy, Rochester Hills
WHAT'S YOUR FAVORITE RECIPE FOR HOME EXTERIORS?
Benjamin Moore's White Dove, with Benjamin Moore's Hale Navy or with Sherwin-Williams' Sealskin. You can't go wrong with white and a darker contrast color that can be found in nature (whether it's blue, green, or charcoal).
— KELLY KONOSKE
COTTAGE COMPANY INTERIORS | HARBOR SPRINGS
A gray stone with warm hues, combined with stucco and warm wood. Lately, we've used stucco in a Parex finish called Sweetgrass, which has a very subtle green tint. We've also been using Thermory, a baked ash wood cladding finished with a UV-pigmented oil. Stone, stucco, and wood provide warmth and balance.
— BRAD AND THERESA ANGELINI
ANGELINI & ASSOCIATES ARCHITECTS | ANN ARBOR
Red cedar siding with black-framed windows (inside and out), and Sherwin-Williams' Gray Area as a backdrop, for a lighter contrast. Add a bright color on the front door, like Sherwin-Williams' Overt Green. That achieves a wonderful balance with nature and its surroundings.
— STACI MEYERS
S|A|M INTERIORS | BLOOMFIELD HILLS
White houses with black window trim/shutters, and copper or zinc metal accents like mailboxes, weather vanes, address numbers, planters, sconces/lighting/lamps, et cetera. It's a classic, clean, timeless look that always feels warm.
— CARRIE LONG
CARRIE LONG INTERIORS | ROYAL OAK
Colors that involve a bit of risk. Deep charcoal with a chartreuse-painted door. That door could be swapped for tangerine or aqua, too — any pop of color against a deep background.
— ELIN WALTERS
EXACTLY | ANN ARBOR
---
Native Trails keeps ecology top of mind when designing
CALIFORNIA-BASED NATIVE TRAILS, a leader in artisan-crafted, sustainable kitchen and bath products, is doing great things thanks to its clever founder, Naomi Neilson. Her goal, since Day One, has been to bridge cultures by combining artisan heritage with innovative design and sustainable materials. Here, Neilson shares with us her passion for good design and tells us about some favorite pieces in her California home.
Q: What inspired you to launch an artisan-crafted, small ecological footprint business/products?
A: I was raised to be open-minded and curious, to treasure our natural environment, and to believe in myself and in the good in others. During my travels to central Mexico with my family as a teenager, I discovered incredibly talented and creative artisans in small villages who, too often, lived in poverty — undervalued by their own society and seemingly undiscovered by the outside world. I bought a van and, during my college breaks, started driving down to central and southern Mexico, (where I purchased) folk art from these folks. That led me to begin designing more functional items using the same traditional craft techniques, and working with artisan families to make products that fit with the needs of the U.S. marketplace.
Q: Do you have some of your own products in your home, and which are your favorites?
A: I live by the beach in a modest home, with an astounding number of Native Trails products in it for the size. My absolute favorite is my Avalon tub. We installed the very first one in my home for testing, while the product was still in its development phase. Let me just say it passed the test! Even my kids love it. Something about the shape and feel of the concrete is just incredibly relaxing — and, well, almost otherworldly. I'm also in love with my hammered copper modern farmhouse kitchen sink. I have Zuma in my kitchen, with an angled apron front, and it almost makes doing dishes enjoyable. Almost! I do love that copper kills bacteria, so I feel extra clean with copper surfaces all over my home. I even managed to place both a copper and a nickel sink in my outdoor kitchen area.
Q: How are the concrete sinks eco-friendly?
A: Our concrete sinks and tubs are a blend of natural jute fiber and cement materials, showcasing the organic beauty and luxurious silky-smooth texture. The jute fiber takes the place of a significant amount of cement and functions as reinforcement, adding strength and durability while bringing the weight down by 40 percent or more compared to standard concrete. Jute is an incredibly sustainable plant which renews itself naturally in many parts of the world, (so using it is) a great way to decrease the environmental impact of these products.
Q: Where does the reclaimed wood come from for some of your products?
A: We use wood reclaimed locally from various sources — from old barns to fencing to oak that has outlived its useful life in winemaking. It's a true passion for my team to find ways to reuse materials and make them even better; to turn an old fence into a bath vanity or a wine barrel into a mirror. The craftsmanship is absolutely top-notch, and they're built with heart. — By Megan Swoyer

Native Trails products are available at Wittock Kitchen & Bath, Birmingham and Shelby; Ferguson Bath, Kitchen & Lighting, Troy; Herald Wholesale, Troy; and Advance Plumbing & Heating Supply Co., Walled Lake and Detroit. nativetrailshome.com
---
Grand Style
New designs from England are reminiscent of Europe's palatial buildings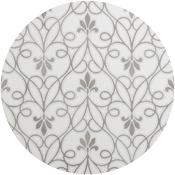 PALAZZO, ORIGINAL STYLE'S NEW large-format tile range, features decorative patterns that have been designed and printed in the heart of Devon, England. The six glamorous designs in this collection, all inspired by the grand palatial buildings of Italy, look as if they've been inlaid on classical Carrara marble, and are sure to bring a touch of luxury to any space. Palazzo provides a practical alternative to wallpaper that appeals to those who are looking for stylish, decorative wall designs for a bathroom or kitchen. Patterns range from fleur-de-lis Filigrana and its graceful swirls, shown here, to scallop. Original Style's Palazzo line is available at Flooring Design Distributors, Troy, or originalstyle.com.  — By Megan Swoyer
---
Art of the Mix
A GP home stops traffic with an abundance of color-blended tulips
YOU CAN'T HELP BUT notice the landscaping at Liz Ware's historic home in Grosse Pointe, shown above. Come spring, hundreds of reddish-pinkish-orange-ish tulips flaunt their striking beauty (see this section's opening page and this page). Ware, who's vice president of marketing and public relations at Mackinac Island's Mission Point Resort (also a tulip haven in the spring), says she generally orders about 1,500 bulbs from Colorblends, in Connecticut. The company not only specializes in great bulbs, but it also carries unique blends. Ware's preference, called French Blend Rose, is an assortment of pink, rose, and apricot blooms that grow to about 25 inches high. Ware hires Lucia Landscaping of Roseville to plant the bulbs. Restoring her 1924 Alfred Hopkins-designed home and its Ellen Biddle Shipman-designed gardens has been a labor of love for Ware. "The tulips are a reminder of the beautiful things to come as I work on the home and create a new spin on Ellen's original plans," Ware says.
Colorblends' horticulturist, Christian Curless, who's been with the company for 13 years, says Ware's choice is a good one. "We create combinations that work well together. When you combine tulip colors, you get great effects, like Liz's, that are eye-catching." Ware's variety of choice features late-bloomers that are great for cutting, Curless notes.
Curless and the Colorblends crew know of what they speak. In fact, the company's owner, Tim Schipper, has roots that go back to Dutch bulb-growing, Curless says. "Tim's father is Dutch and belongs to a family that grew bulbs in the Netherlands in the early years of the 20th century. He came to the United States after World War II to sell bulbs from the Netherlands," Curless says.
Curless, who works with trial gardens and does research for special blends, notes that tulip-loving Michiganders are lucky. "Gardeners in Michigan have the luxury to be able to plant all kinds of tulips, as they're extremely cold-hardy. In fact, they're native to Central Asia, where it can get very cold."
He explains that the tulips we know today go back centuries. "Tulips, via trade routes, made their way from the mountains of Central Asia to the Near East. European diplomats encountered them during visits to the Ottoman Empire (modern Turkey) in the 16th century. They fell in love with tulips and made arrangements to bring them to Europe. Over time they found their way to the Netherlands, where growing conditions for tulips are ideal."
As for growing conditions here, just about any bulb will flourish. It's the combination that matters, Curless says. He says he and other team members try every idea, because what may sound good often turns out to be a landscape flop. "We (need to) think of colors, shapes, heights, and bloom times," the plant evaluater explains. And that's exactly why Liz Ware's tulips selections are so appealing — those four factors all were given great consideration.
Christian Curless' Tulip-Planting Tips:

Plant each bulb about 5 inches deep. There are no rules when it comes to how many bulbs to place in a hole; you can dig a small space for one, or dig a larger space that can accommodate several. "We recommend five bulbs per square foot. When they're en masse like that, you get the impact that stops traffic."
You get the best bloom the first year. Curless says people who want a perfect display every year treat them as annuals. After the first year, some varieties may come back for two or three years; if you want them to come back, don't cut the leaves or stems after they've bloomed. It's all about photosynthesis, which is light hitting the leaves.
— By Megan Swoyer
More information: Order special blends of tulips, daffodils, and other bulb flowers at colorblends.com, or request a catalog by calling 888-847-8637. Of note: Tulip Time in Holland, Mich., runs from May 4-12. Festival details are available at tuliptime.com.
---
OUT OF THE BOX: Preserve memories with the "Shoebox Special" from Birmingham's Woodward Camera (woodwardcamera.com). For $79, they'll take a shoebox of photos and put them all on a zip drive or DVD.
• • •
GONE TO PRINT: ICON construction tecnnologies (iconbuild.com, Austin,Texas) has teamed with nonprofit New Story (newstorycharity.org) to create America's first permitted 3-D-printed home, below. A 600- to 800-square-foot home can be less than $4,000.
• • •
COOL CURE: Rebekah Du Bois and her husband, John, of Milan's moldPro (moldprollc.com), run the area's only mold inspection, consulting, and remediation service that's chemical-free. "People appreciate our dry-ice technology to keep homes healthy," she says.
• • •
K.P. DUTY: Elizabeth Jones, showroom manager of Michigan Design Center's E.W. Kitchens (ewkitchens.com), says the the heart of a kitchen today — and a significant piece of a remodel — is an organized and, hopefully, beautiful pantry like the one shown below.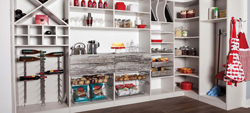 • • •
ON THE UPSWING: In northern Michigan's Boyne City, the price of a three-bedroom home is on the rise. Average prices have gone from $251,000 in 2016 to about $434,000 today, according to HouseHunt (househunt.com) trends.
• • •
HISTORY FOR SALE: A 1937 Bloomfield Hills home, below, built by Charles Erwin Wilson, former U.S. secretary of defense, is for sale. It even has a telephone closet that housed a direct line to the White House. Represented by Dan Gutfreund Realty Group, Signature | Sotheby's International Realty (signaturesothebys.com).
• • •
COM-POSITIVE: Rocksolid Granite North America staffs report that terrazzo from Granite & Trend Transformations (granitetransformations.com) is back in style for 2019, especially for Mid-century Modern designs. The terrazzo offers a wide variety of color options and rich textures. — By Honey Murray
Have news that pertains to the design industry that you'd like to share?
Send a note to: MSwoyer@hour-media.com.