HOMEFRONT | d

é

cor showcase
---
Inside her epiphany glass studio in Pontiac, April Wagner maneuvers molten glass in 2,000-degree ovens, turning glowing blobs into art. "I was born this way," says the artist, referring to her artistic abilities.
The renowned Muskegon native's artwork, ranging from delicate, otherworldly glass swans to showstopper chandeliers, has been commissioned by art lovers from Maui to Vail, General Motors to the White House.
Nearly 30 of  Wagner's larger glass sculptures — some of which look like clusters of crystal ribbon candy — can be found throughout metro Detroit  in private homes and public spaces.
Wagner, who lives in Franklin, grew up making things, and fondly recalls forming mud patties in her grandmother's driveway. "I was always hands-on," she says. "I always knew I was going to be an artist."
She graduated from Detroit's College for Creative Studies and bought her studio in 1997. She says she discovered glassmaking in college and found it "intriguing." In fact, she claims that when she discovered glass, she realized "this was a journey I could spend the rest of my life on."
---
---
At her studio, which she opens twice a year to customers, visitors find shelves packed with Wagner's signature curved glass strips — reds, yellows, blues, and every hue in between. Her art runs from smaller gift items priced under $100 up to installations that cost more than $120,000.
Currently, Wagner is working to complete a large wall piece that will hang by a Cobo Center stairway in Detroit. With larger pieces, Wagner says, she often must work in a separate warehouse to accommodate the artwork's size. The final work, scheduled to be installed in November, will depict the "sun, stars, water, and nature," she says.
"I'm inspired by glass as a material," she continues. "It can be clear, sparkly, liquid; it's a combination of opposites — fragile, fluid, and strong." Wagner doesn't attach other items to the glass, or mar it with tool marks.
"I want the work to look like clouds or water, and what the viewer brings to it," she says.
Earlier this year, the Flint Institute of Arts contacted Wagner and asked her to create an artwork that could be featured as part of the organization's "The Party" fundraiser.
Wagner, known for her charitable ways, obliged, and the result was a tabletop artwork called "Rabbit Lives at Claire's House." It's a glass fantasy of intricate flowers, tendrils, and garden creatures in colors like grape, green, orange, white, and butter yellow.
"I played (with it)," says Wagner, explaining that she's inspired by natural forms and loves to garden.
Event coordinator Natalia Fuente has reached out to Wagner twice before. "We're always impressed with April," she says. "She creates these extremely unique designs, and people love her."
In 2017, Wagner — who works at her studio with its two 2,000-degree ovens nearly every day, taking periodic two-week breaks to recharge — says she hopes to do more "exploring" with glass.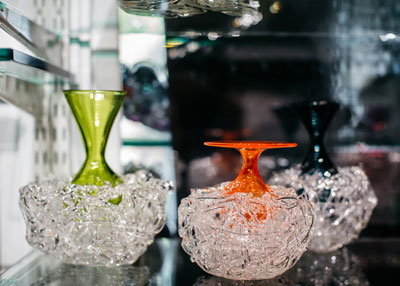 Wagner says she's lived in other states, but she's happy in Michigan.The art isn't just decoration, she stresses. "A lot of time and consideration is behind (my work). By turning, twisting, or repeating the shapes, I investigate their relationship to floor, wall, or tabletop. I use color to push and pull the eye around, or up and down, the piece."
"I'm so excited about what is happening in Detroit," she says. "People here really understand handmade art and have an appreciation of art."
In addition to the piece she's creating for Cobo Center, Wagner is currently working on six huge, commissioned sculptures. "I get really excited about making something I've never seen before," Wagner says. "I try to capture the fluidity and grace of the glass."
---
Where to see April Wagner's glass art: In the Detroit area, one of Wagner's largest public projects is a 15-by-15-foot wall sculpture, Current Leaves, commissioned for the atrium of the Midwest Medical Center in Dearborn. On a smaller scale, The Stand Gastro Bistro in Birmingham features a four-piece wall sculpture depicting the four seasons of food.
Epiphany glass studio's Holiday Open Studio will be held from 4-8 p.m. on Friday, Dec. 2, and from noon-6 p.m. on Saturday, Dec. 3, and Sunday, Dec. 4. The studio is located at 770 Orchard Lake Rd., Pontiac, 248-745-3786, epiphanyglass.com.