Give yourself a gift. Point your car north and head into Genesee County, where you'll find one of the area's most delightful garden centers and retail shops. The Weed Lady, on Fenton Road in Grand Blanc, is a special place in the spring, summer, and autumn — but it turns even more enchanting come wintertime.
If you've dashed through the snow to get here, you'll want to start in the conservatory and warm yourself by a fire that blazes in a 20-foot-tall fieldstone fireplace. Smell the candles in the gift area while sipping a cup of hot tea or coffee and nibbling on homemade cookies. Take a moment to pet "shop hands" Lily the cat and Carley Mae the dog.
Visitors tell owners Jan Swanson and her daughter, Erin Walli, that just visiting the business, which sits on 10 acres, is inspiring.
"They feel like they want to go home and reproduce what they've seen," Walli says.
The gift shop and garden center grew out of a passion Swanson had for gardening and nature. "My mother loved to garden," says the amiable Swanson, a woman who could charm a statue. Swanson watched her own mother grow berries, flowers, produce, and more. "They've always had a love of gardening," Walli says of her mother and grandmother. Swanson and her husband raised their family in Chesaning, about a 45-mile drive from the shop, where they grew produce, herbs, and flowers. One day, Swanson's teenage son said he was going to go to the Flint Farmers' Market to sell a friend's produce and make some money. Swanson decided she wanted to accompany him to the "big city," so she gathered up her dried flowers and headed  there, too. "We sold every last one of them," Swanson says. For 17 years, the Swansons sold their wares at the Flint market three times a week. A dedicated clientele began looking for the "Weed Lady."
"Everyone called her that," Walli says.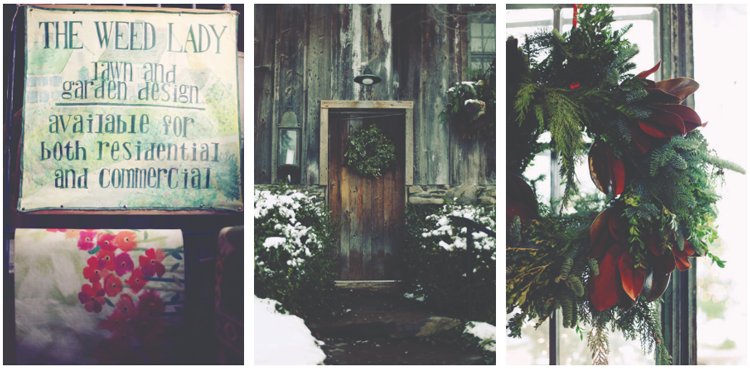 Eventually, in the mid-1990s, Walli's parents heard about the Grand Blanc property. They decided to check it out, and loved it the minute they saw it. They built a greenhouse on the property in 1997, and renovated a ramshackle 19th-century house on the land  that was opened briefly as a gift shop. the house burned in 2000, but the Swansons rebuilt the structure and opened their current shop in 2001.
The "weeds," of course, continue to be available at the shop. Bunches of dried hydrangea, ornamental grasses, and roses hang upside-down in the shop workroom. Don't look for any silk or plastic flowers. "Everything is natural," Walli says.
Come the holiday season, The Weed Lady's team gets busy handcrafting evergreen wreaths and swags. Staff often is commissioned to decorate the exterior of homes or to set up Christmas trees indoors. "Our trees are blue spruce, grown naturally without a lot of pruning, so there's lots of space between the branches to display ornaments," Walli explains.
"We spend a lot of time in the woods cutting our own boughs — our wreaths last until March," Swanson adds. "We special-order items such as boxwood and scented cedar."


Walli, who began selling alongside her mother at the farmers' market in high school, has branched out into landscaping, and can help customers select plants that enhance their property.
The gift shop invites a good deal of wandering — patrons shop for candles, ornaments, plants, candlesticks, perfumes, soaps, garden architecture, and more.
As for the greenhouse — a wonderfully soothing, peaceful, and green haven — it's a true tonic during the wintertime; the temperature is warm enough for succulents and tropical plants to grow well. Annuals are available in the spring. Says Swanson: "Some people come here just to 'be.' "
The Weed Lady, 9225 Fenton Rd., 810-655-2723, theweedlady.com. Men's special shopping day: Dec. 13 (food, gift-wrapping, etc.).