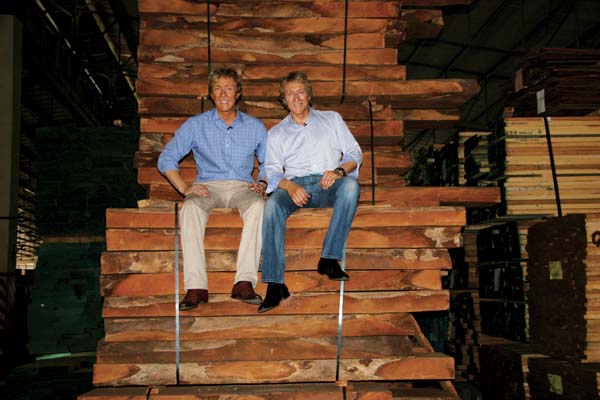 Fans of Antiques Roadshow on PBS are familiar with appraisers Leigh and Leslie Keno, the high-spirited identical twins with a penchant for rare and beautiful furniture. They also appear on Collect This! on MSN. The brothers, who were born in upstate New York and began collecting antiques as boys, are also the authors of Hidden Treasures: Searching for Masterpieces of American Furniture. Leigh owns and operates Keno Auctions in New York City, and Leslie is senior vice president and director of American furniture and decorative arts at Sotheby's in New York. Last year, they launched the Keno Bros. collection, in partnership with furniture manufacturer Theodore Alexander. There are more than 100 pieces, which range in inspiration from the 18th century to mid-century modern. The line is available locally at the Marie-Howard Showroom at Michigan Design Center in Troy. Recently, Detroit Home chatted with Leslie from his New York office.
You and your brother have always drawn a connection between fine furniture and sensuality. In Hidden Treasures, you even refer to the "sex appeal" of Queen Anne and Chippendale curves, and your new line also stresses that "S" shape.
We love the S-shaped curve; that beautiful, sinuous curve is just gorgeous to us. It becomes a very primal thing. We also favor form over ornamentation.
When I sat in your chair called The Slope, I couldn't believe how perfectly contoured it was to the body, especially the curving arms.
It's interesting that you say that because it's one of my favorite pieces in the collection. Most people have the same reaction. They sit in it and just want to slide their hands over the arms. We got the idea from a Windsor chair. It's mahogany, and we added a demilune cane crest, which makes it airy.
Some of the woods in your line are quite exotic, such as sapele and bubinga.
Those woods and others, like Japanese tamo, literally shimmer, the way water does when the sun hits it. I haven't seen anything quite like it. We spent hours in the woodpile when we first went to Theodore Alexander, and they're very particular about how these woods are chosen. It's all done according to laws and reforestation standards.
It's no surprise that styles were inspired by the 18th century because you and Leigh are crazy about that period, but it is surprising that mid-century design plays such an influence.
Leigh and I love all the great visionaries throughout furniture making, not only John Goddard and John Townsend [from the 18th century], but also into the 20th century, like Eero Saarinen and Charles Eames. And in Italy, there were Mollino, Borsani, and Buffa — they were stretching the limits at the time. I just purchased a Carlo Mollino chair; it was a theater chair upholstered in the original red velvet, from 1951.
You write in Hidden Treasures that Europeans tend to like antique furniture to be polished and clean, because having the original finish suggests it's been neglected. Has that attitude between Americans and Europeans changed?
Not that I can see. American buyers and dealers here want the original finish. Collectors and museums look at original surfaces the way an archeologist would view a site that's been undisturbed. You see the layers of time. Maybe ink was spilled, or maybe there's a candle burn; all those layers of usage and human contact should tell a story. If you refinish that piece, you erase the tape of history.
Is refinishing ever OK?
If you have a porch chair covered with nine coats of paint made in 1940, it's OK to refinish it. Or maybe a mass-produced pressed-back oak rocker that's been covered in paint. But some 20th-century furniture you wouldn't refinish. If you have a 1920 Stickley chair, you would never, ever touch the surface.
On the Antiques Roadshow, all of the furniture appraisers warn against using lemon oil or turpentine. How should antique furniture be cared for?
We're very conservative about the way we look at furniture. Really, just dusting it is the best way. If you're having guests over, putting a glass top over a piece will keep it from getting water stains. But we're actually working on a product that will clean furniture, just the surface elements. We're developing it now, so I can't say too much more.
Is there a furniture period that may not be very collectible now but could gain steam soon?
I strongly feel that American Classical-period furniture, from about 1810 through about 1835, is it. There were sideboards, bookcases, chests, and pier tables with incredibly beautiful woods. It's very reasonable right now. Someone could buy a fairly decent American Classical mahogany sideboard, sometimes with the original stenciling or hardware, for under $4,000.
Interestingly, Andy Warhol collected American Classical furniture; he had it throughout his home. We handled his collection in, I think, 1987. I catalogued the furniture, and it was clear that the King of Pop Art loved that period.
On Roadshow, you and your brother seem to have the same enthusiasm that you had when the series started. You never seem to get blasé about antiques.
It's just an innate love we have. We get near a beautiful piece, and our heartbeats and adrenaline go up. I hope that it will never change. I can't imagine it ever will.
---