The sunniest place in this newly built Birmingham home is the front entrance; here, these pots thrive, says Colleen Wilberding of Beverly Hills-based Pretty Pots. Plant Palette: Large-leaf banana plant, sun-tolerant New Guinea impatiens, pink million belle petunias, and lime-green licorice trailing greens.
These urns/arrangements, by Wilberding, go well with this farmhouse-style home in Birmingham. Plant Palette: Blueish hydrangea, variegated ivy, pussy willow, and flowering blossoms. colleen@prettypotsandpaths.com
Cathy Rosenhaus, of Garden Designs (she's also a designer for Goldner Walsh in Pontiac), designed this sunken courtyard that features bluestone and rugged black granite block. Working with installer Derek Spurlock, she chose black granite to create contrast with the bluestone and fond du lac wall. Plant Palette: Masses of 'Rio' City Line hydrangea, Japanese maple, cut leaf Japanese maple, huge cabbages, boxwood, arborvitae, and pachysandra. iamgardendesigns.com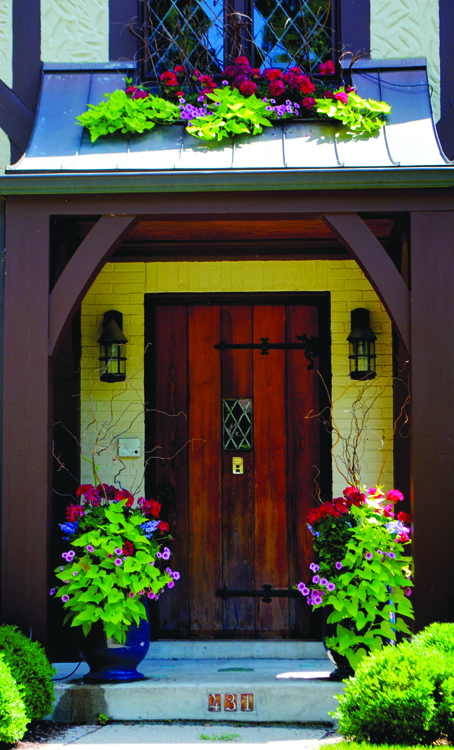 This Tudor in Birmingham charms with Wilberding arrangements. Plant Palette: Pink petunias, hot-pink geraniums, and lime-green sweet potato vines.
These pots (at a Birmingham home) enjoy full sun, which makes them thrive, says Wilberding. Plant Palette: White mandavillas, hot-pink petunias, and trailing grass.
This Bloomfield home features front-porch sun. Plant Palette: Red mandavillas, petunias, coleus, and trailing dark-red sweet potato vine.
Curb appeal and privacy were the goals here, recall the experts at English Gardens. A decorative privacy fence with a gate leads to an enclosed backyard space, and makes a nice backdrop for a colorful entrance garden. englishgardens.com
Once a working farm and now a personal residence, this Metamora property still features old barns and a silo. The landscape design's intent? "To continue with the timeless feel," says Ryan Youngblood of R. Youngblood & Co. in Rochester. Masonry stone columns, horse board fencing, and cedar pergolas help to meld areas. The designer added "a bit of the unexpected," he explains, like an oversized chipped gravel courtyard with locust trees planted on a grid and rusted spheres. He selected hydrangea, wardi yews, serviceberry, and magnolias to round out the space. ryoungblood.com
Working with English Gardens designers, the homeowners here  expanded the use of their backyard by creating a patio for cooking, entertaining, and relaxing.
The goal of Davisburg's Zaremba & Co. was to fashion a casual outdoor retreat at this Bloomfield Hills home. The results? Magic … with white pine and Norway spruce that create an evergreen backdrop, separating a more formal area. Dragon's blood sedum pops from within boulders, while mazus reptans poke from 7-foot-long Canadian limestone slabs. zarembaandco.com