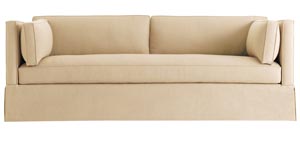 It's the night before the spring furniture market in North Carolina, and Bernard "Bernie" Moray, chairman and CEO of Gorman's furniture, is breaking in new shoes for his trip.
"It's a grind," the 80-something Franklin resident says of the High Point, the world's largest furnishings industry trade show. "The buyers become totally exhausted, [so] shoes are important," Moray says. His Rockport footwear will take him from display room to display room, from glad-handing manufacturers to late dinner with associates.
Even with all the hoopla and long hours, Moray never considers these excursions anything but exciting. And he always finds yet another furniture line to add to his offerings. "If you don't have a passion for what you do, then it's just a job," he says.
Moray has been engrossed in all things Gorman's since buying the company from Ben Gorman 45 years ago. Gorman opened his Detroit-based company in 1940 — making this the 70th anniversary year. Initially, Gorman focused on damaged railroad freight, such as canned goods. Eventually, he worked with damaged furniture, repairing it.
Today, Gorman's focuses on quality craftsmanship and fine styling at its stores in Southfield, Troy, Novi, and Shelby Township.
Moray, a Detroit native, began his career at Robinson's Furniture, where he stayed for 18 years until leaving to start his own business. In 1966, he opened his first Gorman's store in Southfield. "That was considered the boondocks back then," he says. In those days, he says, there were about 700 furniture stores here ("on every corner, just like drug stores").
Of his current inventory, Moray is most proud of Stickley, a manufacturer that's more than a century old. "We picked that up a couple of years ago, and it's been extremely popular and top-notch when it comes to quality," he says. In addition to the high-end sofas, chairs, tables, lamps, and accessories, Gorman's has 60 designers divided among its four locations.
Over its seven-decade lifespan, Gorman's has added a high-profile lineup of manufacturers, including Hooker, Hickory White, and Drexel Heritage. Designer lines, such as Tommy Bahama, Nautica, Martha Stewart, and Ralph Lauren, round out the offerings.
This season, Gorman's is adding Woodard, Brown Jordan International, Henredon Furniture, Barbara Barry and Lloyd/Flanders to its resort-living offerings. Most of these outdoor pieces are made in Michigan.
What's next for the retail store? Stay tuned. Moray (with the help of his Rockports) was primed for another hunt in North Carolina.