LOOK BOOK | SIZZLIN' KITCHENS

EVERYTHING IN ITS PLACE Interior designer Lauren Tolles and organizing professional Lauren Combs paired up to create Combs' chic kitchen, shown here. Read about it and other stylish kitchens on the following pages.
---
EFFICIENT & EXQUISITE
When a busy mom was ready to update her 1970s-style kitchen, she turned to her designer sister for help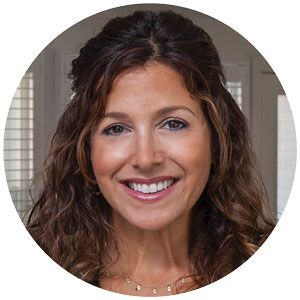 BACKSTORY: It was time, Lauren Katkowsky says of her 2016 kitchen renovation. After dealing for a dozen years with a kitchen that was last renovated in the 1970s, Katkowsky, a mother of three children and a clinical social worker with a private practice, was excited to turn the heart of her 1952 Colonial-style Huntington Woods home from nonfunctioning to efficient. Katkowsky's interior designer sister, Amanda Wolfe, shown above, of Amanda Wolfe Designs and Forest Avenue Design (FAD), in Birmingham, came to the rescue — as did Katkowsky's husband, Jeff Katkowsky, a builder who works for Detroit-based Sachse Construction and was general contractor for the project. Jeff's father also helped with the layout. "Lauren and I have similar tastes, so it was easy to pull it together," Wolfe says.
DOWN WITH DARK: The space was formerly quite brown and featured Formica and vinyl flooring. It was divided into two parts: breakfast nook and kitchen. There was a wall and doorway where the range hood is now, and the back room was a family room, which has been repurposed as a dining space with great built-ins by Distinctive Custom Furniture in Ferndale.
FAVORITE APPOINTMENTS: "I love the hardware (Alno Millennium in satin brass pulls and rectangular knobs) and the 3-inch-thick island!" Katkowsky says. (The island and perimeter is quartzite Sea Pearl/polished; buffet areas are quartzite Iceberg White/leathered finish.)
HAVE A SEAT: The bar stools are from West Elm. The chairs in the dining area are from Restoration Hardware (as is the table).
STORAGE TO DIE FOR: "My sister's gone from having virtually no storage space to having a huge pantry that provides great storage," says Wolfe, who selected dark grout between white tiles so that it echoed a professional baker's kitchen. The pantry features walnut barn-style doors with hardware by Ashely Norton/hexagonal grip, from Russell Hardware in Bloomfield Hills.
BEAUTY IN THE DETAILS: Thomas O'Brien Designs lighting accents the space, while Wellborn cabinetry, through Kurtis Kitchen, was the brand of choice.
COOL STASH: The sisters love to bake, so they were excited to create allocated spaces in the kitchen that store baking bowls and appliances. "I just open the little door, pull out the mixer, and it's already plugged in," Katkowsky says. — amandawolfedesigns.com
— By Megan Swoyer
---
FAMILY AFFAIR
This mom and dad were able to call on their favorite designer — their daughter — to create the perfect kitchen for busy entertainers
BACKSTORY: Pam and retired general surgeon Jim Catto lived happily in their 1963 Bill Lorimer-built home in Beverly Hills for 35 years. Over time, almost every room of their house was redone except the kitchen, where the couple's three daughters and their families gather often. The idea of not being able to use the space for a three-month renovation seemed impossible. Luckily, the Cattos' eldest daughter, Kristen Armstrong, at left, of Birmingham-based Kristen Catto Interior Design, who grew up in the house, knew exactly how to turn a daunting project into a dream kitchen with little hassle and lots of classic style.
ON DESIGNING FOR FAMILY: "Mom has given a million dinner parties," says Armstrong, who personally likes more casual dining. "I knew I needed to blend a certain finesse with a place for socializing — (and keep) everything neat and tidy."
MATCH GAME: The walls were stripped to the studs to turn two rooms into one, but the original rustic, wide-plank flooring stayed. Missing boards were matched perfectly by Tony Ruzin of Howell, known for his furniture restoration and reproductions.
SPACEMAKERS: Because the 12-foot-wide footprint couldn't change, adding an island was impossible. Armstrong bumped out the kitchen window behind the sink and added a counter-height table for up to eight at the end, abutting a wall of backlit custom cabinetry with convenient pullouts created by John Morgan of Royal Oak's Perspectives Cabinetry. The new design also was able to incorporate a pantry. Electricians installed more than 1,000 feet of wiring for all the under-cabinet and upper LED lighting.
A PLACE FOR EVERYTHING: Not only does Pam have plenty of space for her several sets of dishes with three walls of drawers and cupboards, but there's a built-in wine cooler from Specialties Showroom in Oak Park, a whisper-quiet Miele dishwasher, a Sub-Zero refrigerator, a Wolf stove with a griddle, a Wolf wall oven with a heating drawer, and Jim's favorite appliance — a Wolf steam oven. "It's perfect for making salmon for two," he says.
OUCH: After the Calcutta marble-look quarter-inch-thick porcelain was bookmatched and installed behind the stove, a plumber tightened the pot filler above it and the porcelain panel cracked. The plumber was horrified. The panel had to be replaced.
IF I HAD A NICKEL: Pam found the matching nickel-finish sconces, near the hood, at reDesign Home in Royal Oak.
PIECE DE RESISTANCE: Armstrong describes the customized enameled white range hood's studded nickel trim straps as "a bracelet" that adorns the kitchen. It's from Vent-A-Hood, through Specialties Showroom.
— By Patty LaNoue Stearns
---
WAY TO GO ECO!
An award-winning center-of-the-home kitchen made this couple's dream living style come true
BACKSTORY: When Chris Ossenmacher fell in love with Sarah Susanka's book, The Not-So-Big House, she and her husband, John, had just moved into a 4,200-square-foot home. "John looked at me reading the book and said, 'Chris! We just got into this huge house!' " she says. "But, as folks who did tend to move around, I knew that eventually I might have the chance to create a 'not-so-big' home." Several years later, a lot became available near downtown Northville. Chris and John built their dream home — one that, though new, would look like it belonged in this older neighborhood — with a kitchen that, even in a smaller-foot home, would accommodate their love of cooking. The home, built by Ann Arbor-based Meadowlark Design + Build, is what Chris believes to be the first Detroit-area home that's LEED (Leadership in Energy and Environmental Design from the U.S. Green Building Council) Platinum Certified, the highest rating.
HEART OF THIS HOME: "The kitchen is literally the center of the house," John says. "It has four corners and 'pony walls' going halfway up. The columns at its corners make it feel, architecturally, much bigger than it is." With brick-red, handmade tiles (by Mercury Mosaics), a woodstained (water base) floor, and recessed LED lighting glowing from soffits and the ceiling, this kitchen radiates a warm, reassuring pulse. Those tiles, incidentally, have an area with a "bubble" motif that's echoed as a border around the family room fireplace — "an homage to Chris' 'bubbly' personality," John says.
SMALL BUT MIGHTY: "Though it's only 120 square feet, I find this type of design to be very efficient, with lots of counters and storage," says Meadowlark co-founder Doug Selby. "It's easy for two people to be working, doing two tasks, with no need for taking lots of steps." Adds design manager Melissa Kennedy, at left: "It's really efficient, and the design is timeless. In a small area, more can be spent on custom cabinets and handmade tile." Not to mention, the sink is big enough to accommodate a cookie sheet!
CABINET LOWDOWN: The maple cabinets, made in Meadowlark's cabinet shop, were designed to fit around the appliances chosen by Chris and John.
DETAILS ARE EVERYTHING: "With honed granite countertops; a pull-out, stove-side spice rack; and stainless steel, sliding storage shelves; there's a place for everything," Kennedy says.
ECO TO A TEE: "Everything's green!" Chris exclaims. "Thanks to Meadowlark's passion and commitment, this kitchen and whole house really work!" — meadowlarkbuilders.com
— By Honey Murray
---
OVER-THE-MOON CHIC
What do you get when you cross an organized living star with a rising star? A stellar kitchen!
BACKSTORY: With a growing family, Lauren and Andy Combs needed to find a larger home. About 18 months ago, they found their dream residence tucked away on a wooded lot in Bingham Farms. The contemporary, 1975 prefabricated Acorn Deck House was exactly what they were after. "The couple who lived here were the only owners of the home. It was a well-maintained gem," says Lauren Combs, who has a background in design and now is owner of the Michigan franchise of NEAT Method, a national Luxury residential organizing company. The couple put their stamp on the kitchen with the help of interior designer/friend Lauren Tolles, at left, who runs Maison Birmingham in Birmingham and was named this year's Detroit Home Design Awards Rising Star. The team opted to retain the original cedar wood ceilings (throughout the home), remove wallpaper, paint walls, and add new lighting, countertops, and appliances. The kitchen grew by nearly 50 percent after removing a wall. Says Tolles: "It was incredibly closed in before."
OVERALL GOAL: "We wanted to keep true to the style of the home, so we kept the beams and windows intact," says Tolles, shown above, who also has a master's in architecture. Adds Combs: "Being a professional organizer (neatmethod.com), I wanted good function, like a drawer for grilling tools and for spices, and we had custom inserts made." (All cabinet interiors and organizational inserts are walnut.)
FLAWLESS FLOORING: After removing carpeting, a wide-plank engineered white oak by Boen, carried by Everlast Floors in Waterford, was installed.
LIGHTS AND ACTION: "Before, the lighting was very fluorescent," Combs says. Now gorgeous brass sconces from Cedar & Moss hang near the sink, on wood (where there once was drywall). The light over the dining table is original to the home.
SERIOUS FOODIES: A 36-inch Wolf range, a Miele dishwasher, a Sub-Zero refrigerator with a bottom freezer, a Scotsman ice machine, a Soltiere sink by Kallista, and a faucet from Newport Brass make entertaining easy.
SWITCHING IT UP: "It seems everyone's doing a dark island with light cabinetry, but I wanted a dark feature wall," says Combs, who selected a matte black color feature wall, behind which is a refrigerator and storage areas.
DINING IN: A showpiece in the adjoining dining area is a table by Saarinen for Knoll, and the chairs are Herman Miller Eames fiberglass shells circa 1975 (the year the house was built). — maisonbirmingham.com
— By Megan Swoyer
---
INTO THE LIGHT
This Plymouth kitchen, no longer dark and dated, offers plenty of style
BACKSTORY: Last year, after living in their Plymouth home for 15 years, Gretchen and Robert Holloway decided it was time to gut and totally remodel their kitchen. "Just about everything — the cherry cabinets, the black granite counters, and the black double ovens — was dark, and it felt dated," Gretchen Holloway says, "and as our family grew, the kitchen became tight to work in." Enter kitchen designer Elaine Lewenz, at left, of Troy-based EuroAmerica Design, at left, working with designer Drew Pennington of Berkley, who turned an outdated space into everything the homeowners wanted. "Now that we removed a wall, I'm no longer boxed in," Gretchen says, "and I can be in the kitchen and have a dialogue with the kids in the adjoining family room."
THE MAGIC TOUCH: The team selected a Shelter Island Bistro Table from Lexington, tailored window treatments from Kravet, two dishwashers (with three kids, that was a must, Gretchen says), and a wooden range hood that ties in beautifully with the stained alder wood used on the island's base and for the cabinets on the refrigerator wall. "The hood brings harmony to the whole kitchen and it's the first thing people notice," Gretchen says.
GRAY MATTERS: The custom wooden cabinets from Greenfield, a company in Indianapolis, are painted a light blue with a gray glaze, while the kitchen's walls are dressed in Sherwin-Williams' Perfect Greige. The other cabinets are stained a medium brown/gray shade that complements the painted perimeter of the kitchen cabinets. Different shades of gray (often combined with blacks, taupes, creams, and blues) appear on the tile backsplash behind the bar area.
RECURRING MOTIF: Arabesque patterns appear on the tile backsplash behind the range, the tile backsplash behind the built-in bar, and on the fabric valance placed above the breakfast area's sliding glass doors. (Arabesque is the name given to curvilinear ornamental patterns, which were originally used in Moorish or Arabic architecture and are au courant in home décor.) They were selected to give visual texture to the vertical surface.
HOMEOWNER'S VERDICT: "As a result of the collaboration with Elaine and Drew, my kitchen is now very transitional and very elegant. Removing a wall and relocating the pantry made the room more open and more functional than it was before," Gretchen says. — euroamericadesign.com
— By Judith Harris Solomon