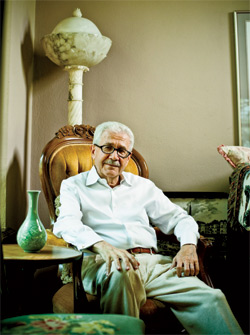 Michigan Opera Theatre General Director David DiChiera calls his spacious Palmer Park-area home "a big old house with lots of old stuff."
In reality, his "old house" is a charming 5,000-square-foot English country cottage built in 1922, and the "old stuff" refers to treasured mementos that reflect his remarkable life and career. The four-bedroom home has two full baths, three half-baths, maid's quarters, a library, and a home office.
We visited DiChiera just after the rain on a late-summer morning. The curved brick walkway glistened as drops fell from the leafy canopy that shelters the residence.
The impresario met us at the front door, first stepping outside and encouraging us to take a deep breath of the scents of summer, made sweeter by the early rain.
Once inside, he gives a brief tour, pointing out the original built-in ice boxes, which he uses for dry-food storage, a vintage oil painting of RCA recording artists displayed near the bottom of the main staircase, and a glass sculpture presented to him by his staff and friends on the opening night of Cyrano, an opera composed by the man himself.
Tall glasses of ice water in hand, we step out to the screened-in sun porch, where DiChiera, a usually very private person, opened up about his life as it relates to his philosophy of home.
What convinced you to buy this house?
The sunken living room. I knew I'd be doing lots of entertaining. I loved the spaciousness of the room and the way the lower level of the house flows.
How often do you entertain and what kind of parties do you give?
Well, in the early years of the opera house, in the midst of our capital campaigns, I was doing lots of entertaining. I still do a little — mostly with 70 to 80 people, a buffet dinner set up in the dining room, and music in the living room.
Do you work with an interior designer?
This house has never seen an interior designer. Not that I don't respect what they do; I just think I have a better handle on how I want to position my favorite things than somebody else would.
What are some of those favorite things?
They mostly have to do with music, photos, glass, and Art Nouveau — all meshed together with no particular rhyme or reason. As you can see, there are photos everywhere. They tell my life story — with family, friends, celebrities, and colleagues. [All the paintings] in one of the guest bedrooms were done by my mother. I treasure those.
Where do you spend most of your time in the house?
I'm usually in the library. That's where I read or watch television, or, if somebody stops by, that's where we sit. My home office connects to the master bedroom. You'll find me there a lot, too. That's where I read The New York Times on the computer.
Do you have any other homes?
I do have a bungalow in Saugatuck that I purchased with my daughter Lisa, who lives in Chicago.
How would you describe that décor?
Bungalow-ish. It's just a place where we get away to relax and enjoy each other's company.
Are there any design influences in this house that reflect your childhood home?
My parents were Italian immigrants. They had no money when they came to the United States. I remember that time vividly. I was born in a house in Pennsylvania with no indoor plumbing.  We had to go outside to relieve ourselves. So, no, I'm happy to say that, design-wise, the way I live now is quite different than the way I was raised.
What makes this an ideal home for you?
Because of my position, I think it is necessary that I live in the city. I like houses that have an upstairs and a downstairs, and I love old houses. This one suits the bill just perfectly.