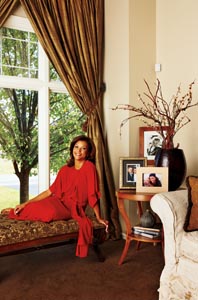 Because Lauren Sanders looks every bit the glamour girl, you envision her in a setting of pastel colors and luxe fabrics.
Speak to her for more than five minutes, however, and you quickly discover that the former fashion model and beauty queen is all about her children, her family, and her home.
Yes, there are some feminine touches in the 5,000-square-foot, five-bedroom West Bloomfield Township residence: a Schonbeck crystal chandelier and sweeping silk shantung draperies, for example. But the dwelling is more about function than fashion.
Sanders, a national voice-over talent and WDIV-TV weekend news anchor — who's married to former Detroit Lion Barry Sanders, a Hall of Fame running back — is quick to admit that their interior centers on their sons, Nigel, 9; Nicholas, 6; and Noah, 3. (Barry has a "guy" space on the lower level.)
"Right now, for us, home is about these three very busy boys," Lauren says. A photograph displaying the suited trio and framed Plexiglas-encased original artwork by the two elder children underscore her words. (Barry has another son who lives with the child's mother.)
"I wanted to make a space that allows them to know who they are, who they come from, and give them some creative space to find out who they want to be," Lauren says.
She accomplishes this by purposely leaving open areas in the home that she hopes will someday be filled by the boys' interests, a musical instrument, perhaps, or sports equipment or art. For furnishings, she praises Quatrine slip-covered furniture in Birmingham, for which she feels a natural affinity.
"My grandmother, Edith Williams, was a professional seamstress who used to make beautiful draperies and slipcovers for people who lived in large homes in communities like Grosse Pointe," she says. "Our home on Detroit's northeast side [would have] fit into the garages of most of these homes, but we had fabulous slipcovers. I remember green carpet and orange crushed-velvet slipcovers."
Lauren and Barry are in the beginning stages of building a new home with Young & Young Architects. One of the most anticipated features is a large window over the sink that will overlook the backyard.
"So when I'm in the kitchen washing my greens," she says, "I can look out and see them by the in-ground, saltwater pool next to the tennis court, surrounded by at least an acre of open grass where they will play with their two dogs. That's my vision. I want to see them while I'm doing my thing."
And as far as a private "me" space for the lady of the house, Sanders says, "I'm more concerned with the common areas … and I do that with a welcome heart. I know that I'm in that season, in the season of family, the throes of parenting. I know my season will come. And I'm very happy with that."