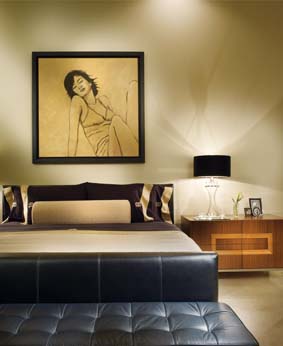 Greg Bartelt designed the nightstands for a home in Palm Beach Gardens, Fla. They're made of Afromusia lumber (which resembles teak) and veneer set on a brushed stainless-steel base. // Photograph courtesy of Vogue Furniture.
---
Junior-high crushes are usually fleeting and shallow. However, in Greg Bartelt's case, his early love has endured and deepened.
His affection wasn't for a schoolgirl, though. Rather, he fell in love with wood and its myriad grains, densities, and colors — and how that material can be bent, shaped, and finished into exquisite furniture and millwork.
His fondness took root when he was enrolled in an industrial-arts program at his junior high in Livonia, which had wood and metal shops. "I really enjoyed those classes and had excellent teachers," says Bartelt, owner of Vogue Furniture in Royal Oak, which creates custom-built furniture and millwork and has won numerous Detroit Home Design Awards.
One instructor encouraged the young woodworker by giving him an old band saw that was going to be discarded. Bartelt then appropriated space in his parents' garage for his personal woodshop. "By high school, I started to make wooden toys. An English teacher saw them, and she helped me market them. Slowly, that grew into a business," he says.
By the time he was a high-school senior, Bartelt had taken over the garage and hired an assistant, "a 13-year-old I hired through a co-op program. I paid him a buck an hour while he got school credit." That first employee, Jim Reilly, still works for Bartelt as Vogue's production manager. He's one of the 25 to 30 employees. The staff also includes Bartelt's wife, Sue, who serves as office manager. After bringing up a family in Commerce Township, the couple now share a loft in Birmingham's Rail District.
Eventually, Bartelt moved his operations to an industrial park in Livonia. Business swelled, and about a dozen years ago, he relocated the company to larger quarters in north Royal Oak. There, Bartelt and his crew work with architects, interior designers, and homeowners to make their vision a reality. Clients are encouraged to come to the Vogue woodshop to see the progress and offer suggestions. After the project is completed, the client can view the entire assembled piece in the shop. Once approved, it's disassembled, delivered, and reassembled.
In his office on a recent morning, Bartelt, a lanky man with a ready smile, chatted about how changing styles and trends keep his business fluid.
"Woods definitely go in and out of fashion," he says. "Look at golden anigre, which was often paired with red mahogany in the '90s. That was huge, a look favored by [furniture maker] Lee Weitzman.
"Then, about 10 years ago, [designer] Barbara Barry started introducing dark woods, like mahogany and wenge, and those became popular. Now, cerused woods [in which white wax or white wood filler is rubbed into the grain] are in, and lighter finishes are preferred over darker ones."
Bartelt says many exotic woods, such as zebrawood, wenge, sapele, and Macassar ebony are also in vogue. A large credenza in his office is made of andiroba, a wood native to Brazil. Still, it's an old standby — walnut — that he says is the most requested lumber.
The scale of furniture changes, too, Bartelt notes, and the bigfoot-home craze of the '90s generated big business for his company. "You can't put a 6-foot buffet in a 22-foot dining room. It just doesn't work; you need a 10- or 12-foot buffet," he says. "That kind of thing drove the big demand for custom furniture, because most companies don't manufacture furniture like that."
Business was brisk then, but the recent recession forced Vogue to seek work out of state. Bartelt says business locally in the last six months has escalated. "We're buried right now," he says. "We'll have our best year in 2012."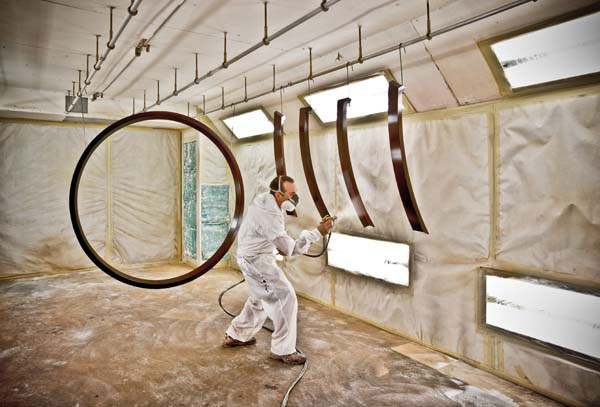 The angry whirr of saws and little blizzards of sawdust greet a visitor to Vogue's woodshop. One woodworker is engaged in making a kidney-shaped desk in crotch mahogany for a famous rock musician. Another is at work on a woman's dressing table with hand-carved flowers. "It will have on onyx top when it's done," Bartelt says.
A large walnut library for a Birmingham client nears completion. Several bunk beds made of rift-cut white oak are nearly done, too.
A desk for environmentalist Robert F. Kennedy Jr. was fabricated from lumber brought up from the bottom of Lake Superior and is adorned with hand-carved falcon feathers. "He's a falconer and a member of the National Audobon Society," Bartelt explains. "This is a fine piece," he says of the desk. "There's no metal; everything is jointed with rabbets or dovetails."
The rear of the building houses the finishing department, where the final touches on furniture and millwork are administered. "All of our finishes come from Italy," Bartelt says. "They're the highest quality."
As he surveys his domain, Bartelt muses on the exacting standards he expects of himself and his staff. "Everything we put our name on, I'd like it to stand the test of time. And everything that goes out the door is not just going to be quality construction, but quality design."