A Pro's Touch
When this designer from EuroAmerica Design planned her own kitchen, she knew exactly what she was doing
BACKSTORY: Although her brand-new Bloomfield Hills residence is just a couple of miles from her former home, the two are different in style. Homeowner Elaine Lewenz, who is also a kitchen and bath designer for EuroAmerica Design in Troy, says her last house, built in 1939, exemplified an architectural style known as Art Moderne (similar to but less decorative than Art Deco), while her new abode is far less decorative — and, more importantly, it's practically maintenance-free. "I love that it's modern, elegant, and timeless, but not trendy," Lewenz says. "While I can do everyday cooking, my kitchen also works for when I'm entertaining."
THE ART OF THE MIX: Lewenz says she loves mixing metal with wood. In the kitchen, above, the perimeter walls feature stained European oak furniture-like cabinets from an Italian company called Val Design, while the island cabinets, made out of champagne-colored aluminum, are from a German company called Warendorf.
MAKING A SPLASH: The 5-foot-high backsplash located behind the Miele six-burner range is made of one solid piece of glass that's painted on the back side. "It's beautiful and also practical," Lewenz says. "I found this first and based the kitchen on it."
WHITE OUT: Made of Murano glass by Futuro Futuro, the white double cube-shaped hood above the range has a built-in fan and lights on the top and the bottom. "It's a nice art piece in and of itself," Lewenz says.
ISLAND HOPPING: Two parallel islands are located in the center of the room. One is for working, while the other is designed to function as a separate prep area when multiple people are cooking, and contains a beverage refrigerator. Both islands are topped with counters made of easy-to-clean Caesarstone. euroamericadesign.com
—Judith Harris Solomon
THE DESIGNER LOVES HER: Appliance cabinet with its built-in plugs and slide-out counter. "I don't have to remove the appliances to use them and it's ergonomically convenient," says Elaine Lewenz, shown at left. Lewenz also loves the Miele steam oven that's built into a wall that also contains a refrigerator, built-in coffee maker, warming drawer, and microwave oven, all by Miele. "Because the steam oven has its own auto chef, it makes your cooking foolproof. You just put fish or veggies in it and they become steam-infused. It's something I couldn't live without," she says. Lewenz is also also crazy about the granite and quartz man-made composite Blanco sinks, in a truffle color. They're stain- and scratch-resistant.
---
Serving Up Form and Function
A serious cook loves her contemporary kitchen, thanks to lots of style and storage aplenty
BACKSTORY: This contemporary Upper Long Lake Bloomfield Township home's sleek main living area called for a kitchen that would be an integral extension of the entire space. Interior designer Lynda Charfoos, of Charfoos Design in Bloomfield Hills, and John Morgan, of Royal Oak's Perspectives Cabinetry, pulled it off with tons of style, storage, and drop-dead gorgeous granite.
EVERYTHING IN ITS PLACE: "I take function first," Charfoos says about her approach to designing a kitchen — which, in this 10-by-20-foot space means a streamlined layout, lots of lower drawers, great LED task lighting, high-end appliances, counter space galore, and everything out of sight. "We wanted it to look like a living area rather than (a scattered) space," Charfoos says.
PERFECT BLEND: To work with the living room, Charfoos chose hand-waxed floors and cabinetry with a matte black walnut finish. The homeowner loves to cook "everything," and entertains in a casual style. The eight-seat glass dining table and four-seat bar, with comfortable matching black leather seating, work perfectly.
COOL STUFF: Besides the six-burner Thermador professional gas cooktop and double oven, there's a top-pushbutton garbage disposal in the prep sink, a Scotsman ice maker with round cubes under the bar, two Bosch dishwashers, and a pull-out warming drawer under the counter, with a matte-stainless garage above that houses the microwave and toaster oven.
OH, THOSE COUNTERTOPS!: Charfoos painstakingly laid out the countertops so the unique veining of the granite was featured and not interrupted. The granite surface was given a leather finish, revealing a stunning texture and design, particularly on the waterfall end of the counter. charfoosdesign.com
—Patty LaNoue Stearns
THE DESIGNER LOVES HER: View of trees and a lake. "Vistas and emotional feelings are very much silent partners in great design," says Lynda Charfoos, left, of her own kitchen in her Bloomfield Hills home.
---
What's Shakin'?
Cheers to a classic home in Detroit, whose kitchen renovation features a delightful twist
BACKSTORY: Tim Iles and Amber Olsen have been renovating a Craftsman-style home in West Village over the past few years. One of the crowning jewels in the renovation is their just-under-200-square-foot kitchen, which was designed by Royal Oak-based Whiski Kitchen Design Studio, together with Birmingham-based contractor Renaissance Restorations. "Tim and Amber gave me a piece of handpainted cement tile in black and cream (from the Cement Tile Shop in Tampa, Fla.) and said that's what they wanted for their flooring," recalls Whiski co-founder and lead designer Rebekah Tull. From there, Tull selected cabinetry to pick up the color in the tile, ordered a concrete countertop from Line Studio Detroit ("true artists there," she says of the company, located in Corktown), chose a concrete sink, and added lots of copper and brass accents — and, voila, the "Bourbon Sidecar" kitchen was born. "We always name our finished kitchens after a whiskey cocktail," Tull says. "It's a fun way to poke at the play on words of our business name. This particular kitchen needed to be named after a cocktail that was classic, but trendy."
MEMORABLE CHALLENGES: "The layout in general posed problems," Tull says. "There was zero countertop space and the staircase was in the kitchen. While it would have been easy to take out the staircase — behind the landing is another staircase that goes down into the foyer — we wanted to keep this historic gem, (which added to the) character of the home." (Renaissance rebuilt the staircase with the exact same footprint and dimensions.)
SIMPLE BACKSPLASH: Virginia Tile's Adex gloss white tiles with Silverado grout give a fresh, clean appeal. (Project manager Jeri Lathum, of Renaissance Restorations, worked with the homeowners on this selection.)
IT'S A MATCH: The cabinetry is from Legacy Crafted Cabinetry, with a Hamilton Shaker-style door in Greek Villa — a creamy gray color that matches the white in the cement tiles. "The homeowners originally wanted white, but I suggested the Greek Villa because a bright white would have caused the floor tile to look dingy," Tull says.
HOT HARDWARE: "The hardware is my favorite thing ever, in a champagne bronze from Atlas," Tull says. "It's a blend of copper and brass that matches the Delta champagne-bronze faucet, and looks great with the cream tones." whiski-kitchen.com
 —Megan Swoyer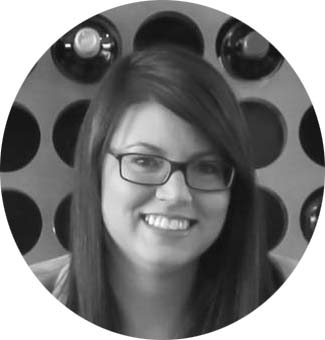 THE DESIGNER LOVES HER: White GE 1960s range in the kitchen of her Berkley home. It was owned by her grandmother. "I love baking my grandmother's Texas sheetcake in it because it always turns out just the same as hers did," says Rebekah Tull, left.
---
Bright On!
This remodeled Commerce Township kitchen pops with panache
BACKSTORY: In 2014, eight years after purchasing their Commerce Township home, Azurely and John Kerr decided to totally remodel their kitchen. "We gutted it. We wanted it more upscale, and lighter and brighter. It was also short on food storage and function," Azurely says. With the keen eye of kitchen designer Kristen Shellenbarger of Artichoke Interiors, based in downtown Clarkston, the couple's ideal kitchen now sizzles with style.
TREASURED ISLAND: The focus of the kitchen is the huge 9-by-4-foot island. "We treat it as both a workspace and a dining table. Because it has seating on both sides, it allows for good conversation. Let's be honest — the most important conversations happen during a meal. And I can also be prepping and cooking while the kids sit there and do their homework," Azurely says.
COUNTER POINTS: The counters are made out of 1 ½-half-inch-thick zodiac white quartz. "But when it came to the island, I wanted a top that was 3 inches thick in order to draw attention to this massive slab. It took eight people to carry it in," the homeowner says. "It's delicious."
CLASSIC CABINETS: The maple wood kitchen cabinets, painted white, are crafted in a modern Shaker style. "That means they have rails and styles that are wider than traditional Shaker pieces, which date back to the 1920s," Shellenbarger says.
ON THE DOUBLE: The double-stacked crown molding placed above the kitchen cabinets is both decorative and practical. It also hides plumbing that couldn't be relocated.
HOMEOWNER'S VERDICT: "I couldn't be happier. I think my kitchen is the focal point of the entire downstairs, and it has both family and entertainment value," Azurely says. "Kristen exceeded every expectation I had. She'll be my designer forever." artichokeinteriors.net
—Judith Harris Solomon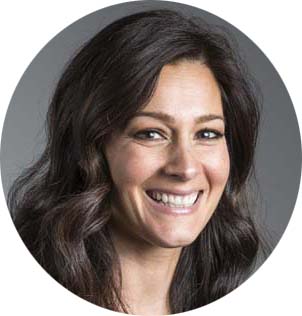 THE DESIGNER LOVES HER: Thermador gas cooktop. "It has star burners that create equal flames to go around the pot," says Kristen Shellenbarger, left, of her own kitchen in her Bloomfield Hills home. Another favorite is her large Kohler prolific single bowl stainless steel undermount sink. "It has accessories like a bowl and cutting board that I can drop into it. It's geared for the home cook."