LOOK BOOK | green scene
---
CLARKSTON ABLOOM
On July 18, the Clarkston Garden Walk & Artisan Market, sponsored by the Clarkston Farm and Garden Club, will showcase six unique gardens, clarkstongardenclub.org. Read more about this annual event in this issue's Datebook section.
---
INTEREST & INTRIGUE
A nondescript Clarkston garden gets a makeover with a woodlands touch
BACKSTORY: In the mid-1970s, when Jim and Patsy Carlson purchased their home in Clarkston, it sat on what Patsy calls "a typical subdivision lot planted with some hostas, impatiens, begonias, and pine and spruce trees." Because Jim is from Marquette and they both like the natural look of the Upper Peninsula so much, they decided they wanted to create a garden with more unusual plants and more charm, evocative of northern Michigan. After careful thought, the couple decided to create a haven for birds and wildlife. "You can't have too many birds," Patsy says.
IN THE HEIGHTS: "The original garden was very flat, so I added mounds of soil and compost to get different heights, (and then brought in) lots of boulders," Patsy says. "I also added four little ponds. I didn't want a water feature taking over the yard, because I wanted it to feel like you're walking through the woods and come upon a little clearing where there's a woodland glade with water and filtered sun."
BEYOND BEGONIAS: The Carlsons' yard barely has a blade of grass. Instead, perennials and woodland plants were placed along crushed limestone and gravel paths that Patsy created. Plantings include bear's breeches, crocosmia, jewelweed, petasites, many cultivars of hosta, yellow wax bell, pinelia, zebra grass, porcelain vine, and painter's palette, which glows at both dawn and dusk. Tropical plants include red banana and croton. "The more unusual the plants are, the better I like them," Patsy says. "I don't like the run-of-the-mill, so I buy just a few annuals each year and tuck them in so they don't scream and shout. I let nature take care of that, and she does a very good job."
GREEN SCENE: Patsy says her verdant garden features "a whole gambit of greens but also has touches of reds, pinks, and fuchsias, (so there are) spots of color here and there."
STUMPED: When a tree dies, Patsy tries to save the stump and uses it as a natural base to decorate with some form of art. "The art doesn't have to be expensive," she says. "I have birdhouses that cost a dollar — and everybody loves them."
BITS OF HISTORY: Patsy says she also likes to preserve history by placing artifacts in the garden. That explains why an 8-foot-tall metal cupola originally from the Pontiac State Hospital sits in a prominent place, brick pavers (circa 1900) from a road in Toledo line a flower bed in front of the house, and a seahorse-shaped stone birdbath from the 1940s rests on a bed of pine needles.
FAVORITE HAUNTS: "I buy plants wherever I go," Patsy says. "If I don't have room for them, I find room." Favorite sources are Gee Farms Nursery and Garden Center in Stockbridge, near Lansing; Wojo's Greenhouse in Ortonville; the Oakland County Farmers Market in Pontiac; and Bordine's in Rochester.
---
MAKING A SPLASH
Grosse Pointe Park layout charms with koi, waterfalls, bubbling streams, and more
BACKSTORY: We spotted the gardens of Rodger Hunwick and his wife, Kathie, on the 2017 Grosse Pointe Garden Tour and couldn't stay away. The couple purchased their historic stucco cottage-style home, located in what's known as the Cabbage Patch District of Grosse Pointe Park, in 2001. "At that time, the home had no garden at all," Hunwick says.
ON GOLDEN POND: The highlight of the narrow garden, which measures approximately 70 by 100 feet, is its fabulous pond. The pond, an unexpected delight, includes two bubbling streams with waterfalls. Twenty-five-feet long and 8 feet across at its widest part, the pond holds 3,000 gallons of water. "I sculpted the pond with a shovel after the original hole was dug, making it a curved shape," Hunwick says. "Nowadays it's stocked with pink, yellow, and white water lilies; water irises; and grasses — as well as eight colorful Japanese koi and a lot of goldfish. The fish remain in the pond all year. I aerate it in the winter, and the fish stay in the deep part and … aren't interested in eating at all."
PIECE BY PIECE: Hunwick utilized flagstones to create the free-form patio in the backyard. "It was like a puzzle," he says. "I would break the big pieces with a hammer when I needed smaller pieces to fill in."
SUGAR HIGH: The couple especially cherishes their 200-foot-high sugar maple, "which is probably older than our home," Hunwick says. "Maples like this actually run through the neighborhood, which was a farm many years ago." The garden's 10-foot-high oakleaf hydrangea and 5-foot-tall daylilies are also notable.
ART "GILL-D": Three colorful fish (one ceramic and two raku) mounted on the side of the garage were crafted by a beloved neighbor, Jim Weber, who resides two doors down. Weber studied and worked at Pewabic Pottery, and was an English teacher at Parcells Middle School in Grosse Pointe until his retirement.
TREE TOPS: Hunwick's winter hobby cleverly incorporates his summer hobby. All the tiny trees placed throughout his N-Gauge model railroad display, located in the home's basement, are made out of the dried tops of the outdoor garden's perennials, which he harvests in the fall.
LABOR OF LOVE: Hunwick does the garden work himself. "Kathie gives me hints on placement; I'm open to suggestions," he says. "She very much likes to sit out here and read, though."
---
TO THE POINTES!
The 27th Annual Grosse Pointe Garden Tour, June 22-23, sponsored by the Grosse Poine Garden Center, invites garden lovers to private gardens and a Garden Shoppe sprouting with everything from garden-themed soaps to kitchen items, gpgardencenter.org. Read more about this annual event in this issue's Datebook section.
---
EURO-SCAPE
Shades of Switzerland adorn a Birmingham couple's garden
BACKSTORY: Jeff and Jill Sesplankis, originally from Cleveland, Ohio, moved to Birmingham in 2012 after having lived in Europe for four years. "As a result of living in Zurich, we wanted our garden to be eclectic yet structured, to remind us of the city we love so much," Jill says. "You see lots of little gardens like ours (in Switzerland)."
DESIGNER'S DETAILS: The goal was to meet the clients' needs and wishes and plan a garden that was a reflection of their travels, their urban setting, and the existing architecture of their home. "Jill and Jeff knew they didn't need a grassy area in the front yard," says their landscape architect, Monica Schwanitz, principal of Bloomfield Hills-based Monica Schwanitz Landscape. "Grass is very suburban; this garden is urban and grass wasn't necessary as a design element."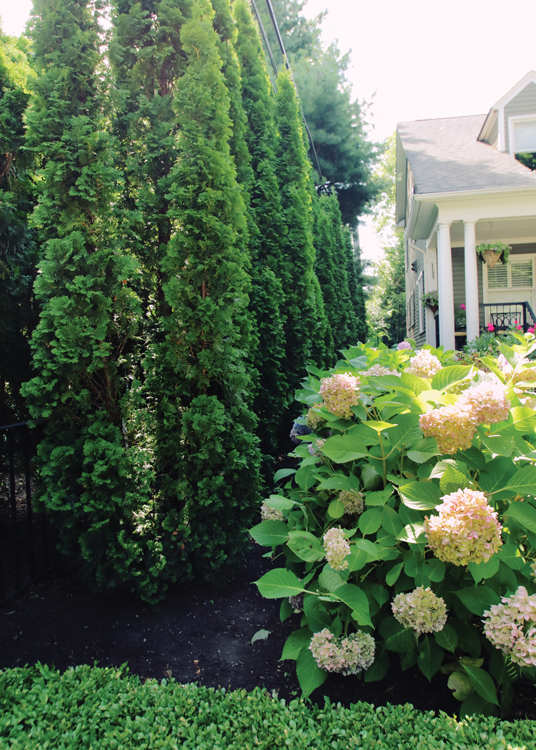 TERRIFIC TRANSFORMATION: Located in front of the home, the lush compact garden measures just 30 by 45 feet. "When we bought this house, Jeff and I felt compelled to do something special. If we had done it ourselves, it would have been just grass and shrubs. That's why we hired a landscape architect." They also rely on professional gardener Teresa Sullivan of Warren.
BENCH MARKS: Schwanitz recommended that the garden contain a bench because "in Zurich, benches are placed all over," Jill says. "Europeans spend much more time outside than Americans, because their homes are smaller. The bench reminds me of all the times that Jeff and I would buy croissants and sit outside. We would also run into friends in town, and there was always a bench nearby to enjoy a spontaneous yet leisurely visit."
BLOOMS OF BLISS: A row of fluffy pink hydrangeas holds court behind the bench. "I love hydrangeas," Jill says. "They were in my wedding bouquet, so it's a nice memory."
FENCE ME IN: Chosen for their narrow columnar form and dense foliage, Degroot's Spire arborvitae trees line the fence on the south side of the garden.
BORDER PATROL: Multiple clipped boxwood hedges, just 18 inches high, create an interesting linear pattern throughout the garden. Just in front of the boxwood, lush beds of zinnias and stonecrop sedum add a riot of color.