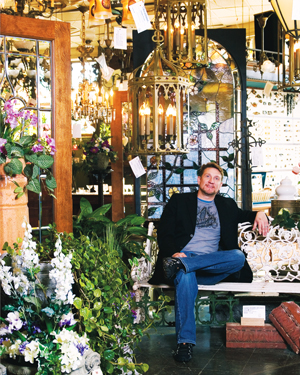 Scotty James knows a thing or two about making what's old new again. General manager of Materials Unlimited — a 15,000-square-foot architectural salvage showroom in Ypsilanti — James has a degree in historic preservation and two major home renovations under his belt. We asked him five questions to help separate the treasure from the trash.
What's new in salvage?
There's been an explosion in public awareness regarding recycling. People recognize the "green" value of reusing materials, and they're becoming more creative about how they use things. Recycling isn't just about trash. It also includes things like mantels, hardware, lighting, trim, and even the kitchen sink. Consequently, all sorts of people are seeking out previously owned items for their decorating and construction projects.
What's popular these days?
Our collection of restored lighting is incredible, and by far the thing we sell the most. We have fixtures from nearly every period of design, including Art Deco, Arts & Crafts, Victorian, and Art Moderne. Antique lighting is a good value because the craftsmanship and quality of materials is unmatched by today's manufacturers. I think most people are drawn to the charm an older fixture offers a room.
How would you describe your personal taste?
My style is always evolving and is shaped very much by my environment. I currently live in a loft in downtown Ypsilanti. Without walls to define areas, the challenge is to group things together successfully without it feeling like a warehouse. My loft features Gothic, Moorish, Mid-Century Modern, and Art Deco. All of the pieces function beautifully and relate to each other well. To pull it off, you need a good eye, a great sense of humor, and a willingness to defy traditional decorating rules.
Do you have a favorite period or era?
Architecturally, I'm really drawn to the mid-Victorian era of house construction: Italianate, Gothic Revival, Second Empire … think Addams Family. Though I would never actually decorate a house in a period style, those types of houses tend to be somewhat modern in flow. This leaves you with great spaces that can go in many different decorating directions.
If you could choose one thing to buy, what would it be?
I've had my eye on a 19th-century Flemish, multi-tiered, bronze chandelier here in the shop. It's been electrified, but I want to convert it back to regular candles for over my dining table. I imagine hanging it with a hemp rope and an antique nautical pulley, so I can raise and lower it to light the candles.