Head of the Table: Scott Shuptrine Design Manager Whitney Kane (right) and her team fashioned a stunning tablescape (above) for the annual Dining by Design event. Her first selection was an emerald green table from Scott Shuptrine. She complemented the green with a black-and-white motif, capping all with an elaborate table runner. "We have been planning this table since July," she says.
---
Entertainment
Green and Glam
Pull up a seat with designer Whitney Kane as she shares her top table-setting tips 
'Tis the season for decking out your tablescapes, and here are some tips for setting a great holiday table from Scott Shuptrine Interiors' Whitney Kane. Kane, a design manager based at the Novi store, was one of many talented metro-area designers who showcased innovative tables at the 2014 Dining by Design event at the former Federal Reserve Building in Detroit. With a classic-contemporary scheme, she and her team — including Shuptrine's Tom Verwest — received top reviews from attendees. Kane's computer-generated "sketch," left, shows her initial vision. Here, she shares her thought process on what she calls a "lush, luxurious, and multifaceted" table:
What was your jumping-off piece?
"A green table [right]. To give it an overall timeless look, I decided (to complement the green with) black and white — it's classic, and you can take it edgy or more historical."
How did you incorporate pattern?
"The rug is what's called a concentric diamond — it's fun to interject some geometry and pattern." (She also chose Christian Lacroix plates with a concentric diamond pattern.)
Besides furnishings and accessories, what else should one consider when setting a special table?
"Lighting." (Check out how the crystals between the light fixtures play off each other and the obelisks on the table.)
What should be a table's focal point?
The runner. "The live runner we used (see story at right) brings it all together."
Why mixed seating styles?
"It's an interesting combination, using two (types of seats), and a different juxtaposition." (Kane used three simple black-and-white chairs along each side of the table, and Tibetan sheepskin benches at both ends of the table.) scottshuptrineinteriors.com.
Proceeds from the Design Industries Foundation Fighting AIDS (DIFFA) Dining by Design Detroit benefit the Michigan Aids Coalition (MAC), whose mission is to prevent HIV/AIDS in Michigan. For more information on the 2015 event, visit michiganaidscoalition.org. — Jamie Fabbri
See photos from this event in the House Party section.
A Live Runner is a Stunner
It's no big deal for Royal Oak-based floral designer Bill Hamilton, right, to create live table runners, but his collaboration with Whitney Kane for Dining by Design Detroit was a bit of a challenge. It was the first piece he's ever created that had to last up to four days — from event setup to take-down. Hamilton focused on using elements that would retain their color and vitality even when out of water. A combination of craspedia, thistle, purple statice, orange hypericum berries, orange chili peppers, green millet, privet berries, silver dollar eucalyptus, rosemary, purple dendrobium, purple artichokes, hops, super green roses, persimmons, and succulents took the table to "the next level," says table designer Whitney Kane. "You could change a few things out and put in reds and silvers or blues and silvers to make it look more (festive for the) holidays," Hamilton says. "Also, anyone who's doing a farmhouse-to-table dinner party could do something like this." billhamiltondesigns.com.
---
Antiquing
Vintage Centerpiece
New Goodrich Market Brims with Home Ideas
Marla Millar has always been a collector of vintage accents and antiques, so when the time was right, she jumped at the chance to open the Yellow Dog Marketplace, an antiques mall-meets-2014 emporium in Goodrich featuring all things vintage and/or rustic-looking. "It's the concept of an antiques mall, but brought up to 2014 standards," Millar says. "It's clean, open with high ceilings, and very staged," adds the entrepreneur, who's been an interior designer for 30 years.  
These days, she's busy with seasonal themes and welcomes visitors to browse the holiday trees and decorations that fill the 50-vendor marketplace for the month of December. As this is the entertaining season, we invited Millar to share some ideas on designing a centerpiece. She used a few of her most recent acquisitions  — a glazed antique dog planter, a cream vintage pottery piece, and two old drawers — to orchestrate the intriguing centerpiece shown here. Millar called on FleurDetroit to create the arrangement, which includes evergreens, white roses, berries, and more. "Don't just consider the ordinary vase," she says. "There are so many great objects you can use to make a terrific tablescape." yellowdogmarketplace.com
---
Artistry
Michigan Creatives
West Elm Store Sells Works from 10 Great Lakes State Talents
The new 15,000-square-foot West Elm home store in downtown Birmingham features an array of works by Michigan-based makers. "It's part of West Elm's local initiative," says store general manager Wyndal Chapital.
Adds artist/printmaker Marcy Davy, left, of Ypsilanti: "I am a huge fan of West Elm's efforts to bring local artists into their stores, and am so excited my prints are represented in the mix alongside other talented creatives from the area." Davy screen-prints images onto canvas, paper, and wood. Her Michigan-themed prints (one is shown here) are now available at the Birmingham store. Beyond Davy's work, shoppers will find everything from soaps and painted canvases to paperworks and milled items from the following Michigan artists and craftspeople: Arthur's Plaid Pants, Babylon Soap Co., Cellar Door Soap, Jody Lynn Burton, Meant to Be Sent, Milled Co., Revisions Design Studio, Tenebras, and War Paint Studio. westelm.com
---
Hearthside
Fire Up
Gather 'Round Modern Fireplaces with Chic Finishes/Embellishments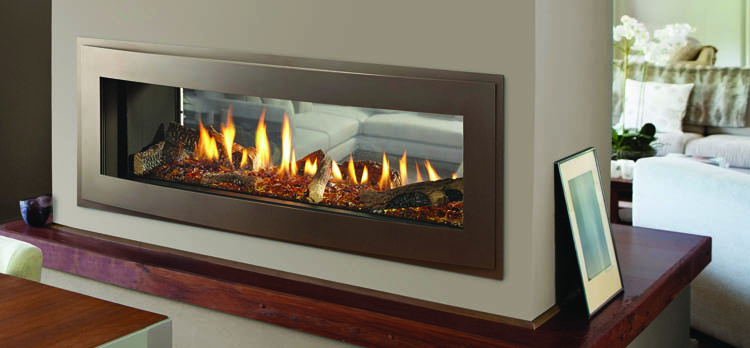 Heatilator fireplace's new Crave series blends modern luxury with clean, linear designs that are distinguished by a number of popular features, such as flush-to-wall set-ups, remote control functionality, and customizable finishes. Crave offers several upgrades to differentiate their fireplace, including decorative fronts and glass finishes, an adjustable LED light bed, a reflective porcelain liner that multiplies the flames and intensifies the fire, and interior options like a natural log set or sleek colored glass in black, amber, cobalt, or red. At Heatilator dealers, including Fireside Hearth & Home,  Royal Oak, Utica, and Canton. heatilator.com
---
Cabinetry
New Year, New Upgrades
Kitchen/Bathroom Vanity/Cupboards Lean Toward Lights
Cabinetry trends are pointing toward a rebirth of white at the end of this year and into 2015, say home-décor industry insiders. "Homeowners' interest in white kitchen or bathroom cabinetry is not a new trend; rather, it's currently experiencing a resurgence," says Andy Wells, vice president of product design/trends at MasterBrand Cabinets. The company offers a selection of cabinets in nine brands, including Homecrest, Diamond, and KitchenCraft, which are all available in metro Detroit. Those looking to use white in the new year will find that it works well with natural woods. Wells also says homeowners are becoming increasingly comfortable with ceramics  — especially glass — with white. "White cabinets pair nicely with a glass backsplash, whether opaque or crystal. When selecting a paint color that goes well with white cabinetry, look to hues of the forest floor or colors that remind you of nature, such as muted greens and blues, along with warm grays." masterbrand.com
---
Color
'Chrysalis' Shades Paint 2015 Au Naturel
Spinning the Future Color Wheel with Sherwin-Williams' Jackie Jordan
Sherwin-Williams presented Colormix 2015 recently at the Michigan Design Center in Troy, where Jackie Jordan, director of color marketing for Sherwin-Williams, shared insights on the 2015 color palettes. We caught up with Jordan before her presentation to find out just how the color experts make their trend choices (this year, they're calling the colors "optimistic").
"We travel all over and we look at everything — the art world, fashion, what's happening, the economy, design — and then we present our findings," Jordan says. She explains that the team looks for areas that overlap, which helps to create color stories. For 2015, the Chrysalis story, for example, finds homeowners in a technology rush, but craving a calm oasis. The palette, with colors ranging from off-black to chalky neutrals and dusty blues, is designed to create a more comfortable interior. "An important influence for Chrysalis is the appreciation of earth's striations," Jordan says. "The patterns created by nature are inspiration; the colors are found in everything from beach rocks to a stormy sky." She also shares that painting just an accent/feature wall in a specific color, and not the rest of the room, is a returning idea because there are so many smaller open floor plans today, and "you wouldn't want to do the walls of the entire open space all in one color."
What colors does Jordan come home to? "In the past two years, I've redone everything but two rooms in my home," says Jordan, who's lived in Dallas for seven years. "I have neutrals on most of the walls, black in my laundry room, and a very dark coffee color in my powder room. The smaller spaces are great for using dark colors." sherwinwilliams.com
---
Details
Hob-knobbing with Elegant Doorware
Rocky Mountain Hardware — a premier manufacturer of art-grade bronze architectural elements —  introduced four new doorware collections (one is shown at right), whose designs bring even more practicality and elegance to the brand's portfolio. At Russell Hardware, Bloomfield Hills. russellhardware.com