---
Outdoor Furnishings
Eucalyptus is Tough
Our style-rovers spot inspiring furniture in a Birmingham window display
In a U.S. Forest Service document written decades ago, a researcher named Roger Skolmen noted that eucalyptus wood is excellent for "purposes requiring high strength and for finish work where an attractively figured, dark reddish-brown wood is desired." BoConcept's outdoor Adelaide collection is just that. You may have seen pieces from the cleverly designed collection propped in an inviting window display at BoConcept's Birmingham location (see this issue's This Season department).
The Adelaide outdoor dining table is made of high-pressure compact laminate with black edges for a chic finish, and its warm eucalyptus wood legs (from trees in Australia) create an elegant contrast. Steel construction inside the legs ensures stability and durability,
Rounding out the collection is an outdoor café table and coffee table — stylish accent pieces for any outdoor living area. The low coffee table is perfect for creating a lounge space in the corner of a garden or patio, while the tall café table is ideal for a small urban garden or balcony.
"It's not about an indoor style or an outdoor style," says Henrik Pedersen, designer of the Adelaide outdoor collection. "It's about individual style and the coherent expression of it. I wanted to achieve a seamless flow from inside out." boconceptbirmingham-mi.com
---
Q & A
So Sophisticated
With a new furniture line, designer Jamie Drake opines about home décor, from mistakes to must-dos
Jamie Drake, principal of Drake Design Associates in Manhattan, recently visited the Detroit area to showcase a new furniture line available at Scott Shuptrine Interiors. Here, the renowned designer (he's fashioned interiors for Madonna and Michael Bloomberg, to name a few), who's been inducted into Interior Design magazine's Interior Design Hall of Fame and has been named  one of Architectural Digest's AD100s every year since 2012, shares his thoughts on color, trends, and the mistakes homeowners make:
What's new?
"Designing furniture for Theodore Alexander (available at Scott Shuptrine). The line embodies my style — sophisticated, shapely, sculptural, and witty, as well as romantically modern. Six new pieces were introduced at the Highpoint Market and another 20 to 30 pieces will be introduced this fall."
Spotting any trends?
"Modernism … a cleaner, older, more graphic look, even in more traditional design."
Every home needs …
"Comfortable groupings of furniture conducive to conversation, light dimmers to create a seductive mood, and pieces that convey the personality of the residents."
Your favorite colors now?
"Emerald green, fresh coral, and gray as a neutral."
Common mistakes people make when decorating their homes?
"Being too tentative and afraid to express a distinctive point of view. And they're often particularly tentative about using colors they love."  scottshuptrine.com — Judith Harris Solomon
---
Q & A
House Calls
Artist Josh Moulton shares why he's drawn to 'home work'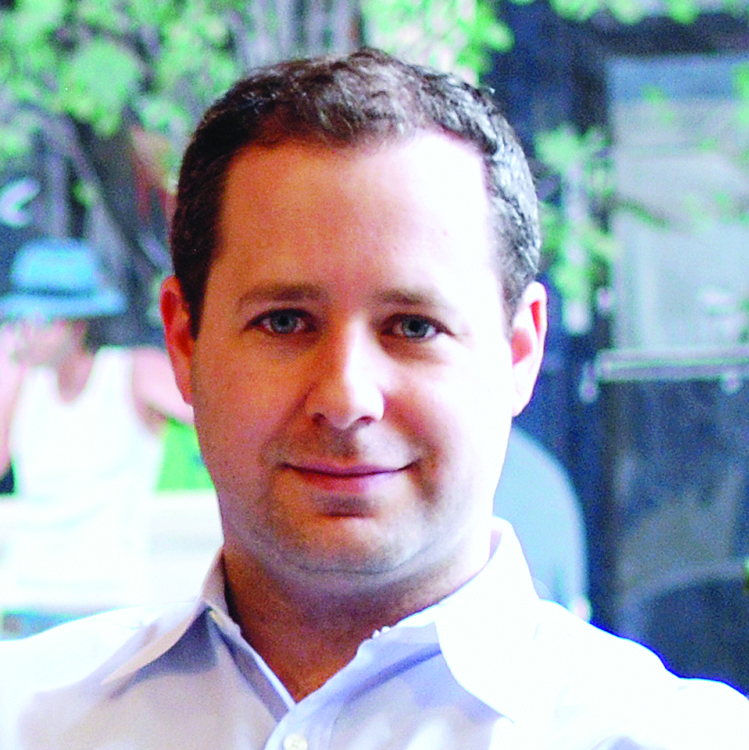 Grosse Pointe native and artist Josh Moulton has been a "house portrait" artist for two decades. He got his start selling his creations when he was a teenager attending University Liggett School; after graduation, he majored in art at Lake Forest College in Illinois. Today, the Josh Moulton Fine Art Gallery in Chicago, which opened four years ago, holds studio space and showcases other projects (from urban landscapes to rural scenes) which are for sale to the public. He also continues to paint homes.  "I'd like to live in lots of the houses I paint," Moulton says about his brand of "home work." Here, he shares some home-portrait insights:
Who's your artistic inspiration?
"I grew up watching my dad, Conrad Moulton (a renowned New York City advertising illustrator). He had painted some Detroit homes and did illustrations of the nation's first subdivision homes (Levittown, in New York)."
How do you approach projects?
"I usually take 20 to 30 pictures, from different angles, then edit them on a computer. Next, the customer chooses what should be in the painting. I make a drawing to scale before using acrylic on canvas, or watercolors." (Two of the artist's Michigan home paintings are shown at right; he's pictured above.)
An example of a challenging commission?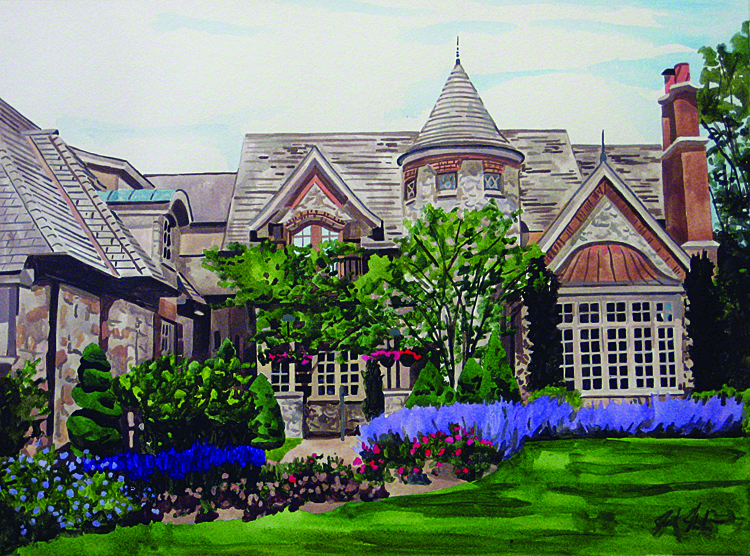 "A painting of a Grosse Pointe house that the customer's parents sold when he was 8. It was to be a Christmas gift for them. He had a washed-out photograph from 1987, but I took current pictures, letting him choose his favorite. When painting, I looked at two photographs: the old one gave me the right characteristics, and the recent one helped with color and lighting."
Price?
"They start at $1,000 with matting, glass, and frame. It takes up to four weeks (researching/photographing, etc.)." joshmoultonfineart.com — Suzanne Chessler
---
Q & A
Inside an Auction House
We're sold! on DuMouchelle Art Galleries
The Internet has made its way into the monthly auctions at DuMouchelle Art Galleries in Detroit, where patrons — some from as far away as China — seek furniture, paintings, sculpture, fine china, designer fashions, and more. Robert DuMouchelle, shown at right, general manager and auctioneer, encourages first-time bidders, whether they're participating online or in person, to watch how the process works before trying to obtain tempting goods. An appraiser who's been on PBS' Antiques Roadshow, he reveals more here:
Your items are from?
"Around the world — America, Europe, etc."
What's 'going, going' now?
"Modernism — in paintings and mid-century furniture. Designer clothing and accessories also are popular."
Unique items on the auction block:
"We've had a lap desk, meant for travel, that was owned by Samuel Clemens (Mark Twain). We had an Abraham Lincoln letter that was written to Thomas Durant."
The bidder's profile:
"Our largest audience includes people present and on the phone, although there's an increasing number of people buying on the Web. It depends on the item. "— Suzanne Chessler
Auctions are scheduled for June 12-14 and July 17-19. For times, visit dumouchelle.com. 
---
Paint
Passion for Plaster
Strokes of Genius: Painting technique creates Old World feel
When Adelheid Seidensticker and her husband, Karl Sachs, moved into their home in Birmingham in 1994, the couple obtained a quote for what it would cost to paint the walls, ceilings, trims, etc. "The painter said it would be $12,000," says Seidensticker, shown at left. If that had to be done every two to three years, she adds, it would be "ridiculous." The couple grew up in Germany, and lived in homes with walls finished in Venetian plaster. This wall finish —  created in several coats by applying plaster made with ground marble and limestone —  results in walls taking on a marble-like appearance.  Seidensticker traveled to Italy in 2009 and spent eight weeks studying how to apply Venetian plaster. She then came home and refinished every wall and ceiling with imported Venetian plaster. Today, the couple's home is a testament to Seidensticker's plaster passion. The living and dining rooms are lovely creams, peaches, and light stone colors. Seidensticker and Sachs' intimate study off the living room is a rich, dark emerald. The walls have a subtle sheen and are smooth to the touch. (See three wall treatments at left.)
"I've always liked something that nobody has," Seidensticker says. "I like to get people interested and have the same passions as I have." Sachs, who says he helps his wife but doesn't do the plaster work himself, notes that some Venetian plaster in Italy is up to 900 years old. He points out that European churches stand as showcases for the finish. "People always think it's marble, but it isn't," he says.
After selling their automotive company in 2007, the couple decided  to specialize in the technique of traditional  plaster work. In 2011, they started Interior Luxury, LLC, focusing on applying Venetian plaster — or, as it is sometimes called, stucco. The historical "Venetian Plaster or Venetian Stucco," exclusively used by Interior Luxury, LLC, consists of only natural ingredients — mainly ground marble, limestone, and minerals. It is bacteria- and mold-resistant and solvent-free. Because the plaster in Seidensticker's home has a final wax coat, it can be wiped down with a cloth. "It's breathable, totally natural, and (the look of it) always gives you a different feeling of depth," she explains. The process takes five days, during which time three or four coats of plaster are applied. Patience is needed to obtain the correct marble finish. "Often, people don't want to wait that long," Seidensticker says. "But you can't push it." She notes that the allure of plaster, once a popular finish in the U.S. as well as Europe, was forgotten for awhile. "Now people like it again," she says. People drawn to it are looking for what Seidensticker calls a "piece of art" as a wall finish. "It can be elegant (or) dramatic; it can feel homey. It works in the kitchen, anywhere," she says. "I don't want to live without it." interiorluxury.us — Carol Hopkins
---
Tile
Refresh and Renew
The Ann Sacks Showroom reopens with new look
The 2,000-square-foot Ann Sacks showroom at the Michigan Design Center in Troy recently reopened with a cocktail party for the design-industry community; attendees discovered that Sacks grew up in Detroit (a fun tidbit). The new "Next Generation" store features some 500 different tile, stone, and mosaic ideas on its inspiration boards. With its minimalist design, the space allows the tile, plumbing, and cabinetry to take center stage. Shoppers will want to take note of the floors, laid with some of the company's best-selling, in-stock designs, and the intriguing vignettes that speak to the whole home's lifestyle options. Dozens of tile boards are housed strategically under an ample workstation. Based in Portland, Ore., Ann Sacks was founded in 1981 and was built on the concept that tile and stone — with their tactile warmth, strength, and versatility — are expressive media for creating imaginative spaces. Also joining Ann Sacks is Kallista (luxury plumbing) and Robern, a leader in residential storage solutions.  Incidentally, Kohler Co. acquired Ann Sacks in 1989 — she remained as president of the company until her retirement in 2003.
---
Memories
Through the Generations
Store keepsake items in beautifully crafted boxes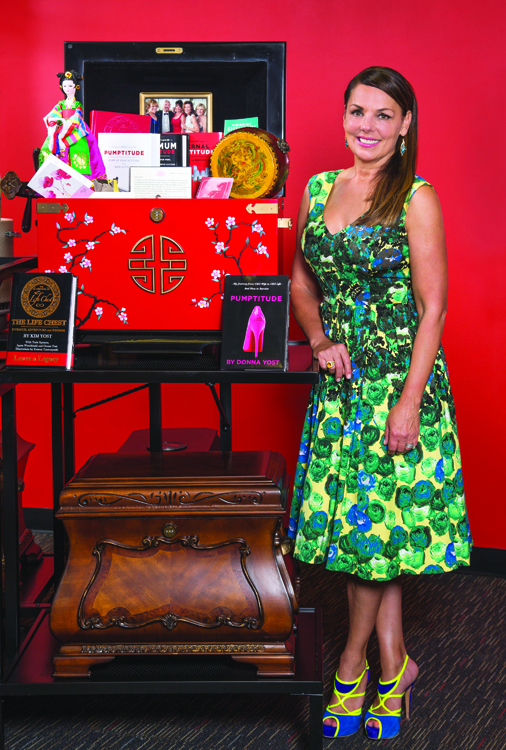 A first, lost tooth. The movie ticket stub from an unforgettable date. A photo of a great-grandparent. A military commendation. Often, these types of family mementoes are stored on a shelf, in a shoebox or two. Now Donna Yost, left, president and CEO of Troy-based The Life Chest, has fulfilled a decades-long dream by creating several finely crafted lines of what she calls "Life Chests," in which treasured possessions can be stored — and shared — in elegantly designed, heirloom pieces that become part of a room's furnishings.
"This is such a soulful way, in our touch-screen world, for people to hold meaningful items in their hands and share stories about them," Yost says. The latest Life Chest undertaking? A special whiskey-and-cigar box that will fit into a Life Chest and has room for a bottle of whiskey, shot glasses, and premium cigars. Constructed of salvaged wood from Detroit by The End Grain Woodworking Co., the boxes promise to be unique.
The chests come in a wide variety of styles — from red lacquer with hand-painted details (the Zen Blossom) to the New Yorker, with a honeyed maple finish and studded leather strap accents. Unlike even the sturdiest of shoeboxes, each Life Chest is made to last for generations, with features such as a rich and protective velvet lining, a combination lock, hydraulic closers for safe and gentle shutting action, and a marble base for durability. Showroom: 3331 W. Big Beaver Rd., Suite 118 , Troy. thelifechest.com — Honey Murray
---
Events
Lake Effect
Grosse Pointe War Memorial ballroom sparkles with fresh, new look
Special occasions are even more spectacular than before at the Grosse Pointe War Memorial. Interior designer Tami Kessler, left, owner of Tamara Kessler & Associates Inc., added a variety of recent refinements to the space, which features a dramatic view of Lake St. Clair and the Alger House grounds and gardens. "This is a magnificent venue, (and) it's beautifully appointed," says Kessler, a native of Grosse Pointe and daughter of noted architect William Kessler. A rich, dark stain on the floors enhances the parquet pattern, and the columns are now a warm gray, "to bring out elements that had been hidden before," Kessler explains. A metallic finish was applied to the ceiling domes to create a silver leaf effect, creating extra sparkle for the chandeliers. Striated wallpaper adds interest, while  new valances and modern blinds add drama.
"We were fortunate that the ballroom has such good bones to start with," Kessler says.
About the Grosse Pointe War Memorial
Built in 1910 for Russell A. Alger Jr. and his family, the Grosse Pointe War Memorial was once a spacious Italian Renaissance-style home called The Moorings. (Alger, son of Michigan's Gov. Russell Alger, became interested in the automobile industry and perhaps had more to do with the moving of the Packard Motor Car Co. plant to Detroit from Warren, Ohio, than anyone else. Alger became a key investor and vice president of the Packard Motor Car Co.) Charles A. Platt was the architect, while Ellen Biddle Shipman was the landscape designer. After Alger's death in 1930, the family wanted to find a way the house could be used to improve the quality of life in the community. In 1949, it was dedicated as a perpetual memorial to the 3,500 Grosse Pointers who served in and the 126 who died in World War II. A ballroom and auditorium were built in 1962, and the entire facility became the center of operations for the educational and charitable activities of the Grosse Pointe community. warmemorial.org