A COOL SPLASH
Waves of personality await at these two lake-home baths
BACKSTORY: Designer Dayna Rasschaert, of Bloomfield Village-based Dayna Flory Interiors, loves designing vacation homes, especially (and this happens rarely) if they're only a few miles from her office. That was the case for one family, who resides in Bloomfield Hills and now enjoys a gorgeous getaway home on Union Lake in nearby West Bloomfield. The architect for the lakeside new-build was Birmingham-based Patrick Dyke. "My goal was for it to be relaxed but crisp and tidy," says homeowner Kim Viviano. The home design began as a collaboration with Birmingham-based Rariden Schumacher Mio & Co. (where Rasschaert was formerly employed) and was completed by Rasschaert. "(The homeowners) have two teen boys with tons of friends, so there's a lot of activity there," Rasschaert says. Kim, she adds, has a flair for design and was open to trying different elements, including in the two bathrooms shown here.
FISH FUN
PLEASED WITH PLUMBING: The lower-level bathroom with the fish wallpaper features an industrial-style sink from Griffin, a faucet by T and S, a toilet from Grohe, and a toilet bowl by Icera. Note that in order to allow the fish wallpaper to "flow" well, the wall-mounted paddle for the toilet's flusher (not shown) was removed.
SMART FLOOR: The durable polished concrete floors are great because the bathroom is right off the water. "They use it when boating or coming in and out," Rasschaert says.
MIRROR, MIRROR: A polished chrome mirror from Restoration Hardware adds appeal.
Cool school: The school of fish that grace the walls swim on wallpaper from Cole & Son (Acquario). "That wallpaper gives the whole space personality," Rasschaert says. Adds the homeowner: "I wanted something fun that reflected the lake without being too nautical. It was love at first sight."
PLUMBING GURU: All plumbing was specified through Jack Kronk at Universal Plumbing in Oak Park. "He's a genius," Rasschaert says. The vanity is from Universal Plumbing.
HOMEOWNER'S VERDICT: "The idea was to be user-friendly to lake living," Viviano says. "I wanted everything off the floor, like the sink and toilet. I thought it would be easier to clean because everyone is usually wet from the lake. Everyone who comes to the house always says how fun the fish bathroom is! The fish are unique and make you smile."
RIDE THE WAVE
SPLASHY ACCOUTREMENT: The wall-mounted faucet is in Velvet Chrome, Pret-A-Vive Series, by Watermark.
CABINET COUTURE: Cabinetry is by Perspectives Cabinetry in Royal Oak.
PEBBLE POP: The stacked pebble tile (Timor Stacking Pebbles) is from Ciot, Troy. "It has a beachy feel," Viviano says.
WOW WALL: The wallpaper (Seascape, Summer), with spirited blue waves, is by Walnut Wallpaper (walnutwallpaper.com).
BUCKET LIST: The hammered Cabo sink (Bates and Bates) is aluminum. It adds a nice layer of interest. "It reminds me of a galvanized bucket that we found outside," Viviano says.
THE RIGHT LIGHT: "I like the Edison look," says Rasschaert, "but only in places — not through the whole house." These Edison-style sconces are from Sonneman, Tribeca. daynafloryinteriors.com.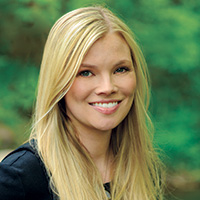 —  by Megan Swoyer
In her own powder room, the designer loves her: wallpaper, by Cole & Son (Mediterranea, in white). It showcases black-and-white sketched houses stacked on a cliff. "There's a gold roof every now and then," says Dayna Rasschaert, left. "People see something different every time."
---
WELCOME!
The peacock symbolizes hospitality, so there's no better place for this showy wallpaper
THE BACKSTORY: Although interior designer Jane Synnestvedt, of Birmingham-based Jane Synnestvedt Interior Design, did a marvelous job transforming this large Birmingham home, it's this treasure of a powder room that may be one of her favorite spaces. As for that opulent peacock wallpaper,  the designer says, "A powder room is a great place to have fun with wallpaper."
IN THE DETAILS: The vintage vanity, once a piece of furniture that was in a bedroom of the homeowners' lake house, boasts custom-finish knobs from Russell Hardware, Bloomfield Hills, by Edgar Berebi. The Hampton knob has Swarovski crystals. "I love using pieces that have history, a story to tell," Synnestvedt says.
REFLECTING ON BEAUTY: The mirror is by Elegant Lighting, in an antique silver-leaf finish, from Herald Wholesale, Troy.
PURE POLISH: The Hampton Carrara polished marble floor tile is from The Tile Shop, Bloomfield Hills.
ON THE WALL: The opulent gold peacock-themed wallpaper (Lee Jofa, Byron Black & Gold from the Kravet showroom, Michigan Design Center, Troy) was an easy pick for the designer. "Peacocks symbolize hospitality, so it's perfect for a powder room."
FAUCET FINERY: "The polished-nickel faucet (Ammara Designs, Russell Hardware) is simple but elegant. I didn't want to take away from whatever else was going on, design-wise."
CHANDELIER EXTRAORDINAIRE: The overhead crystal light, from Michael's Lamp Shop, Lathrup Village (a favorite source for Synnestvedt), sparkles. janesynnestvedt.com.
— by Megan Swoyer
In her own powder room in her Birmingham home, the designer loves her: Murano sconces. "And I added a beautiful crystal chandelier from Michael's Lamp Shop," says designer Jane Synnestvedt, left. "I also have a beautiful carved mirror that a dear friend gave to me."
---
RUSTIC ELEGANCE
A trifecta of top design companies turns out a breathtaking space
THE BACKSTORY: Located in Bloomfield Hills, this recently completed 6,000-square-foot classic stone-and-shingle-style home — including an outstanding bathroom — was the result of a remarkable collaboration between architects John and Donna VanBrouck  of VanBrouck and Associates (Birmingham), Amanda Sinistaj of Ellwood Interiors, and Brian Leith of LUXE Homes Design + Build. The homeowners currently reside in Pennsylvania most of the time, but they like to spend their summers in the metro Detroit area to be close to family.
MASTER PLAN: "The homeowner had some ideas on design elements that she liked. My job was to help incorporate a cozy, refined, rustic feeling," Amanda Sinistaj says.
MAKING A SPLASH: In the master bath, the sculptural, freestanding "Toulouse" bathtub from Victoria + Albert, set in an alcove, is the focal point. The tub is made out of volcanic ash, which serves to keep the water warmer longer.
STONEWALLING: To echo the home's exterior, the tub is surrounded by walls made out of Fond du Lac stone. A pebble-textured stone tile called Island Stone King Pebble (purchased at Virginia Tile) graces one wall of the shower, as well as the shower floor.
BEAM ME UP: The chocolate-colored ceiling beams were hand-planed and painted by specialty painters to make them look reclaimed.
SHIP-SHAPE: The white vertical bead board fronts of the bathroom's cabinets echo the shiplap white wooden sheathing found on the walls and the ceiling. "It's a detail that's a bit reminiscent of Eastern seaboard cottages," Donna VanBrouck says.
CREAM OF THE CROP: "The monochromatic creamy whites and caramels just melt together," architect John VanBrouck says.  vanbrouck.com.
— by Judith Harris Solomon
In her own master bath in her Berkley home, the designer loves her: cabinetry plugs for her hair dryer. "I love that my hair dryer is tucked away neatly and ready to use without any fuss," says designer Amanda Sinistaj, left.
---
EXQUISITE APPOINTMENTS
This dressed-up powder room is just what the homeowner ordered
THE BACKSTORY: Interior designer Jennifer Asmar, of Troy-based Asmar Interiors, was recently hired to renovate a Beverly Hills home that was originally built in the 1950s. One of her first projects was to totally gut the full bath that was located in a back area just off the garage and turn it into a traditional, "dressy" powder room. "The homeowner wanted it to be beautiful and sophisticated, as well as formal and functional, because it's the family's only main-floor bathroom," Asmar says.
VANITY FAIR: A beautiful wooden chest from Maitland-Smith, a company that takes design inspiration from 17th and 18th century England, was converted by a local tradesman into a vanity. Featuring a bow front, marquetry detail (detail shown below),  and Pompeiian brass accents, it's the focal point of the room. It includes a white porcelain sink from Antigua, and brass faucets from Newport Brass that have an old English bronze finish. The elegant Uttermost mirror behind the vanity has a clear glass center along with an etched, antique-finish bronze beaded detail border.
DIAMOND JUBILEE: A good-looking but practical bone-colored, petite diamond-patterned textured vinyl wallcover from Jim Thompson gussies up each wall.
STEPPING PRETTY: The powder room's elegant polished mosaic floor (not shown), from Virginia Tile, is composed of  Crema Marfil and Thassos marbles.
THE LIGHT FANTASTIC: The bronze and amber crystal sconces, on either side of the mirror, complement the Crystorama chandelier (detail shown below). asmarinteriors.com.
— by Judith Harris Solomon
In her own powder room in her Rochester Hills home, the designer loves her: polished nickel Visual Comfort fixtures she selected to flank her mirror. "I love sconces flanking a mirror in a powder room," says designer Jennifer Asmar, left.  "They're so polished, like a piece of jewelry."
---
A TOUCH OF VICTORIANA
A master bath in Davisburg goes nostalgic with a pretty clawfoot tub, antique sink cabinet, and more
THE BACKSTORY: When the homeowners of this Colonial in Davisburg wanted to remodel their master bath, which they hadn't used in a few years, they called on Denise Seifferlein, of Clarkston-based d'avignon interiors, and requested that she give it a bit of a classic Victorian feeling. "The wife wanted a feminine look but it had to appeal to the husband, too," Seifferlein recalls. "We gave it a nice, classic feel, but it's still Victorian-inspired."
IN THE BEGINNING: "The homeowner and I met at the Michigan Design Center to pick out a few things that really spoke to her," Seifferlein says. One of the first items was the mirror, from Lighting Resource Studio (the chandelier and sconces, too, are from Lighting Resource Studio). "We knew my vanity idea (an antique chest Seifferlein had on hand and planned to transform at some point) would work well with the mirror. That was it; we were ready to go."
VINTAGE APPEAL: "The homeowners had very little storage, so I asked the contractor to build some great (space) into the vanity. We painted it a semi-gloss black and put a granite top on it," Seifferlein says. She then replaced the hardware with Georgetown glass knobs from Herald Wholesale in Troy.
SUMPTUOUS SOAK: The clawfoot tub from Victoria + Albert, made from volcanic limestone mixed with resin, retains heat. Previously, there was a huge, framed corner tub that "took up a tremendous amount of space and was hard to get into," the designer says.
PAINTERLY POISE: Walls are Benjamin Moore's Arctic Gray; the trim is Benjamin Moore's White Dove in a semi-gloss. "The tile is shiny, so you don't need the trim to shine a lot."
STEP INTO IT: The floor, from Virginia Tile, has a small mosaic pattern that "helps to bring the flavor of something older and gives it that nice, classic feel, especially with the black and white," Seifferlein says. A 6- by 12-inch chunky base board is in a gloss black.
SUBWAY SPECIAL: The wall tile, from Beaver Tile, features 4- by 16-inch subway-style tiles that give the walls a bit of a "modern twist that's simple."
WINDOW SHOPPING: The inverted box-pleat valance is made of a gray-and-white Pindler fabric (Sherbrook) that evokes a Victorian bent but is more transitional to modern.
FIRESIDE FINERY: The fireplace is two-sided, facing both the bathroom and bedroom. "We had a mantel built, painted it a simple black (Tricorn Black, Sherwin-Williams), and hung one of the owner's favorite pieces of art — a large purple flower. "The black tile is simple; we didn't want it to be a focal point, but it adds ambiance."  davinteriors.com.
— by Megan Swoyer
In her own bathroom, the designer loves her: alcove-style bathtub. "There's no better end to the day than lounging in a warm bath surrounded by bubbles from MOR's Flower of Narcissus bathing elixir!" says designer  Denise Seifferlein, left.
---
PLEASE TOUCH!
Upon entering this space, guests are instantly compelled to feel the luxurious wallpaper and textured patina of the brass sink
THE BACKSTORY: The recently completed powder room at this large Bloomfield Hills home boasts plenty of understated pizzazz, thanks to a botanical wall covering and an intriguing sink. Rita O'Brien, of the Rita O'Brien Design Group in Birmingham, was the interior designer for the entire home's renovation, "top to bottom," she says. "The homeowner wanted a fresh, transitional look that was sophisticated and different from the way it was when purchased," O'Brien explains. Located to the right of the foyer, the powder room features exquisite appointments. "We wanted it to be unique, and be a real wow factor in the home," she says. Adds O'Brien's assistant, Malak Schreiber: "Everyone sees a powder room — it should be really special." And this one is.
WONDERFUL WALLS: "We fell in love with the wallpaper, but when it went up, we loved it even more," O'Brien says. (Monsoon, a vinyl wall covering on paper backing with a botanical motif from Arte-International.) "The first thing everyone does is feel the wallpaper," O'Brien laughs. The homeowner adds, "It has a subtle 3-D effect, and it's a soft color to bring out the black ceiling and the fabulous sconces."
HANDCRAFTED HAUTE: The vanity was custom-made by Art | Harrison Interiors. "It was sitting there, raw, in the Art | Harrison showroom (in Royal Oak)," O'Brien recalls, "so we showed the homeowner that version and then she gave us free reign to make it her own, with a marble/quartzite top."
THE SINK'S THE THING: Kohler's textural Lilies Lore cast bronze undermount sink boasts a design reminiscent of a plant motif of the Art Nouveau period. It's from Ann Sacks Tile & Stone at the Michigan Design Center in Troy. "It has beautiful detail," the homeowner says.
IN THE DETAILS: Currey & Company's rustic Rowland sconces appear to have been plucked out of time from an ancient monastery.
FORM AND FUNCTION: The Kallista towel rack (not shown) by Laura Kirar is from the minimal collection and balances an artistically simple contour with practicality.
LOOKING GOOD: Baker's Luna Mirror, from the Laura Kirar line, is of a custom-cast composite.
HOMEOWNER'S VERDICT: "I couldn't be happier with the end result." ritaobrien.com.
— by Megan Swoyer
A TASTE FOR TIMELESS Left: Currey & Company's rustic Rowland sconces appear to have been plucked out of time. RIGHT: Kohler's textural Lilies Lore cast bronze undermount sink boasts a design reminiscent of the Art Nouveau period.
In her own bathroom, the designer loves her: sit-down vanity area. "Before going out in the evening or entertaining, I love to enjoy a glass of wine there and put on my makeup while listening to music," says designer Rita O'Brien, left. "It allows me to relax and unwind."
---